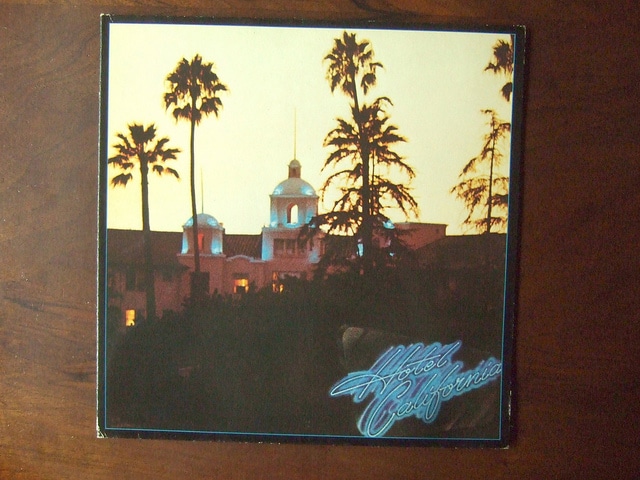 Hotel California is the fifth studio album by The Eagles and it was released on December 8th 1976. The album went on to sell over 32 million copies worldwide and it won two Grammy Awards for the singles 'Hotel California' & ' New Kid in Town'.
The Eagles took 18 months between their fourth and fifth albums, reportedly spending eight months in the studio recording Hotel California. The album was also their first to be made without Bernie Leadon, who had given the band much of its country flavor, and with rock guitarist Joe Walsh.
As a result, the album marks a major leap for The Eagles from their earlier work, as well as a stylistic shift toward mainstream rock. An even more important aspect, however, is the emergence of Don Henley as the band's dominant voice, both as a singer and a lyricist.
On the six songs to which he contributes, Henley sketches a thematic statement that begins by using California as a metaphor for a dark, surreal world of dissipation; comments on the ephemeral nature of success and the attraction of excess; branches out into romantic disappointment; and finally sketches a broad, pessimistic history of America that borders on nihilism.
Of course, the lyrics kick in some time after one has appreciated the album's music, which marks a peak in The Eagles' playing. Early on, the group couldn't rock convincingly, but the rhythm section of Henley and Meisner has finally solidified, and the electric guitar work of Don Felder and Joe Walsh has arena-rock heft.
In the early part of their career, The Eagles never seemed to get a sound big enough for their ambitions; after changes in producer and personnel, as well as a noticeable growth in creativity, Hotel California unveiled what seemed almost like a whole new band. It was a band that could be bombastic, but also one that made music worthy of the later tag of "classic rock," music appropriate for the arenas and stadiums the band was playing. The result was The Eagles' biggest-selling regular album release, and one of the most successful rock albums ever.
Tracklist:
1. Hotel California
2. New Kid in Town
3. Life in the Fast Lane
4. Wasted Time
5. Wasted Time (Reprise)
6. Victim of Love
7. Pretty Maids All in a Row
8. Try and Love Again
9. The Last Resort
Photo Credit: Piano Piano!