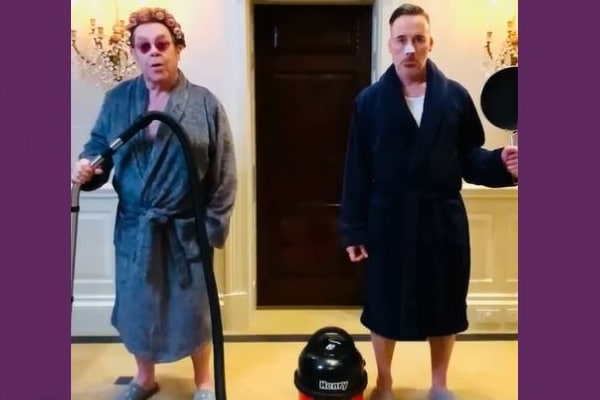 Party man, Elton John is inviting fans to a virtual version of his famed annual Academy Awards viewing party. Hosting viewing parties since 1992, the Crocodile Rock singer has extended the invitation to everyone for the price of just $19.99 (£14.99).
Elton is set to host a pre-show special on Tik Tok ahead of tomorrow night's Academy Awards ceremony. The 74 year-old announced the virtual party in a short clip with husband David Furnish, posing in a dressing gowns and slippers. The star then clicked his fingers and was suddenly dressed in an elaborate floral suit as he invited his followers along to the virtual viewing.
Elton revealed Neil Patrick Harris will host the event which is also set to include a stripped-back performance from Dua Lipa. There might be many more surprises up his flowery sleaves as other names are still yet to be announced for the virtual line-up.
"This year, we are bringing our Oscar Party into people's homes for the first time virtually for an unforgettable evening with David, myself, our dear friend Neil Patrick Harris and the incredible Dua Lipa plus many fabulous surprise names," said Elton. "Now more than ever, we need to ensure that one pandemic does not override another, and we cannot forget the 38 million people living with HIV globally who need our care, love and support so we hope everyone joins us for this special one-of-a-kind Oscar Pre-Party."
The annual event has supported his charities' efforts to raise millions for their lifesaving work. Elton's AIDS Foundation is committed to overcome the stigma, discrimination and neglect that keeps us from ending AIDS. To bring the event globally, the Pre-Party Special will be hosted four times to meet the different time zones of a region's broadcast of the Oscars: 4pm PT / 7 PM ET on April 25 in the U.S.
Elton's big bash kicks off in the U.S. at 4pm PT / 7pm ET, 7pm GMT on April 26th in the U.K.; 7pm AEST on April 26th in Australia and New Zealand, with an optional repeat at 7pm PT on April 26th in the U.S..
Meanwhile, Elton has called for accountability for the hatred posted online. Speaking to Zane Lowe on Apple Music, the Rocketman singer criticised the largely anonymous hate-spreaders for making the world "really divided and really cruel". Read more here.