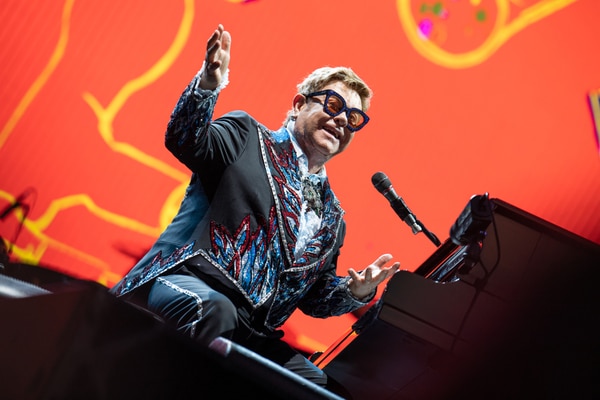 Elton John has cracked the US Billboard singles Top 40 for the first time in this century and has also set a new record in the UK.
Remarkably you have to go all the way back to 1999 to find the last time Elton managed to enter the US Top 40.
Elton's newfound success comes with the help of Dua Lipa, with whom he collaborates on single Cold Heart. The single is a mashup that features remixed portions from past Elton John hits Rocket Man, Sacrifice, Kiss the Bride and Where's the Shoorah?.
Cold Heart reached number 32 on this week's Billboard Hot 100.
The last time Elton cracked the US Top 40 he also did so with the aid of a female singer. In March of 1999 he reached number 29 with Written in the Stars, a duet with LeAnn Rimes.
While he was once a fixture at the top of the US charts, Elton has struggled to crack the US market in recent times. In his native UK however he continues to make chart history. Cold Heart currently sits at number two on the UK singles chart and is expected to knock Ed Sheeran's Shivers off the top spot.
As confirmed by the Official Charts Company, Cold Heart's success has made chart history. Elton John is now the only artist who can boast scoring a UK Top 10 single in six different decades.
Prior to his latest hit, Elton John was among a starry group of musicians who had managed the feat across five decades – Elvis, Cher, Cliff Richard, Michael Jackson and David Bowie.
Cold Heart is the 33rd Elton John single to crack the UK Top 10. He first entered the UK Top 10 in 1971 with Your Song, which returned to the chart in 2002. That kicked off his most commercially successful decade with a further nine UK Top 10 hits including Rocket Man, Don't Go Breaking My Heart and Are You Ready for Love.
Elton John has reached number one in the UK with seven of his songs. His biggest hit was his 1997 reworking of Candle in the Wind, released in the wake of Princess Diana's death. With almost five million sales, it's the UK's best-selling single of all time.
Cold Heart features on The Lockdown Sessions, Elton John's latest album which sees him collaborate with a host of artists including Nicki Minaj, Lil Nas X, Miley Cyrus, Years & Years, Brandi Carlile, Stevie Nicks and Stevie Wonder.