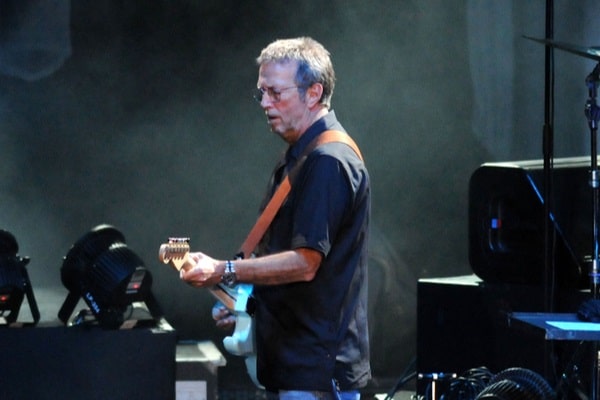 Would you like to listen to the article instead of reading it?
Eric Clapton has just shared a remake of Bob Dylan's 'Knockin On Heaven's Door', featuring guest Phil Collins.
The video which you can check out below, shows the pair running through this track, which will also features on Clapton's upcoming live collection, The Definite 24 Nights.
Expanding on Clapton's classic live album from 1991, the collection features hours of unreleased footage from his 'Slowhands' residency at London's Royal Albert Hall. It will also be available in six-CD/three-Blu-ray and eight-LP/three-Blu-ray configurations.
A hardback book, Blu-ray discs for video content are also included in this collection.
Clapton Has "just been a dear"
This collection also includes others guest stars such as Buddy Guy, Albert Collins, Jimmie Vaughan, Ray Cooper, Robert Cray, Johnnie Johnson, Steve Ferrone, and Jerry Portnoy.
The collection will also feature members of Clapton's band, Greg Phillinganes, Chuck Leavell, and Nathan East.
On working with Clapton, East added, "There's a lot of laughing that goes on and we play foosball. We're at each other's throat constantly on some level! (Laughs) But it's all a joy, and we just have a good time working together and he's just been a dear, dear friend on top of that".  
Check out the video for yourselves below.
Find out how you can get your hands on tickets for the concert film here.
Mike Rutherford On Phil Collins' Health
Mike Rutherford, a former bandmate of Phil Collins spoke about the drummer's health earlier this year.
"As you know, Phil is a bit… He's much more immobile than he used to be, which is a shame, but at the tour, he was in good spirits", he said.
"He's fine now at home, enjoying life. He's worked so hard over the years. I think he's enjoying his time at home".  
Phil Collins' son Nic also deputised in his father's band Genesis during their farewell tours. Find out what Rutherford said of this here.