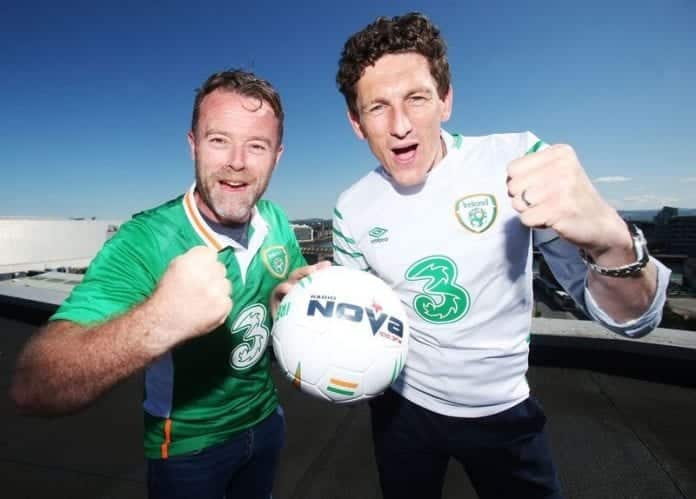 Footballer Keith Andrews and comedian Eric Lalor have joined Radio NOVA's team to present 'Euro 2016 Live'.The show will offer a unique take on the Euro 2016 championship and will run on Radio Nova every Saturday at 1pm from June 11th and will see Andrews and Lalor team up with NOVA's Johnny Bowe for a two-hour weekly Euro-blitz.
Andrews is one of Ireland's best-known soccer players in recent times, having played internationally for the Republic of Ireland numerous times and being named Irish Player of the Year in 2012. His club career includes playing for the likes of Wolverhampton Wanderers, Hull City, Milton Keynes Dons, Stoke City, West Bromwich Albion and Bolton Wanderers. He is a regular commentator for TV3, and Sky Sports amongst others.
Eric Lalor, meanwhile, is one of Ireland's top comedians, having been crowned Irish Standup Comedian of the Year on two occasions and is also currently starring in an acting role in RTE Soap, Fair City.
Together, they will present a two-hour weekly show with analysis of Euro 2016 as it progresses with banter, commentary, input from NOVA's 146,000 listeners, seriously addictive music and of course plenty of laughs along the way!
Speaking about the new show Andrews said "I'm really looking forward to the new show and bringing our analysis to the listeners. There'll be so much excitement in this year's tournament and we'll be bringing that live to NOVA's listeners each week with analysis and special guests too."
Lalor on the other hand said "I'm hugely excited to be doing this show on Radio Nova with Keith Andrews. Combining my two favourite things, craic and football! Come on Ireland!".
Nova CEO Kevin Branigan also spoke about the show saying "We're delighted to welcome Keith and Eric to the team. We'll be bringing a somewhat satirical view to Euro 2016 each week and mixing our trademark seriously addictive music with expert analysis and a few hoots along the way!".
Euro 2016 Live will be broadcast every Saturday afternoon from 1-3pm on Radio Nova, commencing on the 11th of June.