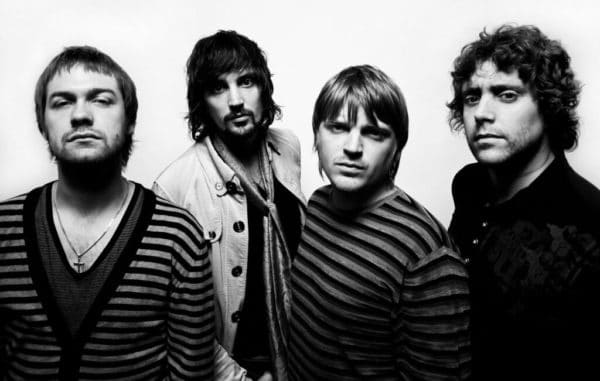 Kasabian have announced their first UK Tour dates since the departure of frontman Tom Meighan.
Meighan left the band last July, after pleading guilty to assaulting his partner Vikki Ager. He said he wanted to "concentrate all his energies on getting his life back on track". 
In that same month, the band released this statement, following Meighan's court appearance for assault.
"Tom Meighan is stepping down from Kasabian by mutual consent. Tom has struggled with personal issues that have affected his behaviour for quite some time and now wants to concentrate all his energies on getting his life back on track. We will not be commenting further". More on that here.
In another statement, Kasabian said, "But we were left with no choice but to ask Tom to leave the band. There is absolutely no way we can condone his assault conviction. Domestic violence and abuse of any kind is totally unacceptable". 
Meighan has since been removed from Kasabian's merchandise and touring companies. He was removed from Silver Bullet Merchandise and Poltergeist Touring Limited Liability. This means he will no longer profit from any future shows. More on that here. 
Last December, Meighan's partner Vikki Ager spoke about how she and Meighan have worked things out.
"Mental health played a massive part in it and a lack of support for mental health. Tom isn't that person and I don't think Tom was himself for a long time. He's not a violent person. He'd never done anything like that before", she said.
Meighan added that he took "full responsibility" for the incident, while revealing plans for a solo album. More on that here.
New Tour & New Line Up
But now, Kasabian have confirmed a new line up of intimate shows set for October.
"We're incredibly excited to announce these intimate shows. We love our band, our music and our fans too much to ever stop!", the band said on the upcoming shows.
"We'll be playing all the classic tunes plus something new for the mosh pit to bounce too. So come join us for the biggest party of 2021! See you there".
It also believed that the band have added touring guitarist Tim Carter to the band, while guitarist Serge Pizzorno will front the band in Meighan's absence.
Tickets will go on sale from Friday June 4 at 10am.
Check out the tour dates below.
OCTOBER 2021
Wed 13 – GLASGOW, O2 Academy
Thu 14 – LIVERPOOL, O2 University (Mountford Hall)
Fri 15 – CARDIFF, Great Hall
Sun 17 – LEEDS, O2 Academy
Mon 18 – LINCOLN, The Engine Shed
Wed 20 – NOTTINGHAM, Rock City
Thu 21 – SHEFFIELD, O2 Academy
Fri 22 – MANCHESTER, O2 Victoria Warehouse
Sun 24 – NORWICH, UEA
Tue 26 – NEWCASTLE, O2 City Hall
Wed 27 – LEICESTER, De Montfort Hall
Thu 28 – BOURNEMOUTH, O2 Academy
Sat 30 – SOUTHAMPTON, O2 Guildhall
Sun 31 – BRISTOL, O2 Academy
NOVEMBER 2021   
Tues 02 – LONDON, O2 Academy Brixton