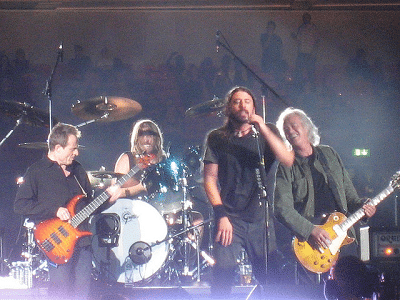 Producer Butch Vig has announced that Foo Fighters have finished mixing their new album.
Vig is a member of the Wisconsin rock band Garbage, and produced most of Garbage's LPs. He previously worked with Foo Fighters on their last record Wasting Light in 2011, as well as working with Dave Grohl in 1991 on Nirvana's diamond selling Nevermind.
The producer took to his twitter account to reveal that the highly anticipated new LP was finally done, with the album expected to drop in November.
Butch described the new Foo Fighters album as "epic".
We are officially done with the new Foo Fighters album. 23 straight days mixing! IT'S EPIC!!!

— Butch Vig (@butchvig) July 30, 2014
Details are still sketchy but we do know the new Foo Fighter LP will only consist of eight tracks, the length of the tracks is unknown and the album is currently untitled.
The album's release will coincide with a new HBO tv series featuring Foo Fighters. The eight part series follows the group as they travel across America recording the LP. Read more about the making of the album here on Nova's website.
Foo Fighters also revealed new tour dates for this side of the pond, a lot of them are taking place in music venues named the o2, 02 Birmingham, o2 Glasgow and o2 Liverpool, unfortunately an 02 Dublin concert has not been announced yet. Come on lads we're a stones throw away from Liverpool, come over and have some fun in Ireland.