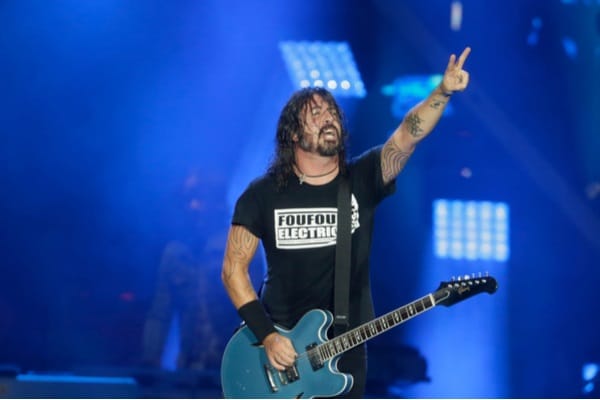 Would you like to listen to the article instead of reading it?
Having teased us for the past number of weeks, Foo Fighters have announced a surprise new album 'But Here We Are'.
This album which arrives on June 2, marks the first new material released by the band since the death of drummer Taylor Hawkins, who passed away last year.
According to a press release, 'But Here We Are' has been described as "the first chapter of the band's new life" and "a brutally honest and emotionally raw response to everything [the band] endured over the last year".
Check out the tracklist in full below.
'Rescued'
'Under You'
'Hearing Voices'
'But Here We Are'
'The Glass'
'Nothing At All'
'Show Me How'
'Beyond Me'
'The Teacher'
'Rest'
Foo Fighters confirmed news of their forthcoming album across their various social media channels. 
This Is Happening Now.
Listen to 'Rescued' https://t.co/gWRpmKfQfP

From the Album 'But Here We Are'
Available June 2
Pre-order here: https://t.co/mzubnk5ol3 pic.twitter.com/GSZetrLHzb

— Foo Fighters (@foofighters) April 19, 2023
"Are you thinking what I'm thinking?"
Previewing this album, the Dave Grohl led band have shared the band's first single 'Rescued'.
A press release has said that the track explores "rage and sorrow to serenity and acceptance, and myriad points in between". 
Check that out below.
Foo Fighters had been sharing several teaser videos, appearing to insinuate that new music was on the horizon.
Yesterday, the band shared a 25 second video, showing new music, along with displaying their logo.
It also featured the following caption, "Are you thinking what I'm thinking? / Are you feeling what I'm Feeling? / This is happening now".
Previously, Foo Fighters had shared a 13 second video of new music, with thumping drums and an atmospheric guitar melody.
Again, the video was posted with a caption, "Are you thinking what I'm thinking?". Check these posts out and Nova's report here.
While it was also confirmed that 'But Here We Are' would be produced by long time collaborator Greg Kurstin and Foo Fighters, no new information has been released regarding who played the drums on the tracks.
Pearl Jam's Matt Cameron had previously quashed rumours that he was to become the band's next sticksman.