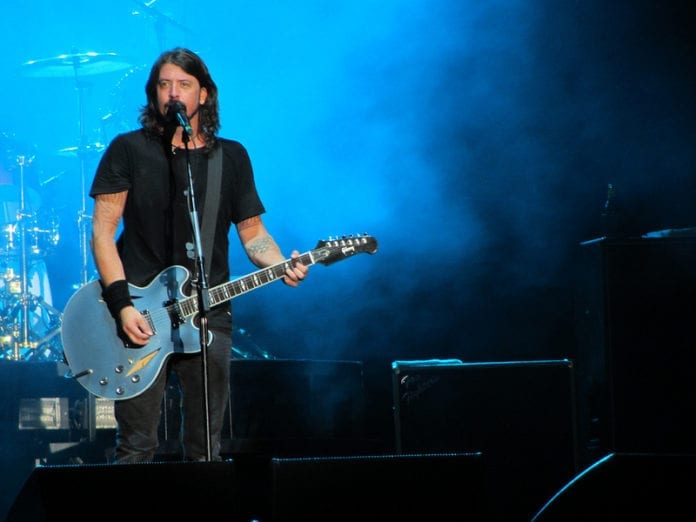 Available via the Foo's website, the generator links up to Spotify and allows fans to create a playlist according to their "vibe".
The new mixtape generator allows fans to listen to tunes depending on which era of the band they liked the most. Check it out on www.foofighters.com.
Meanwhile Grohl has recently been helping promote his mother Virginia's new book, From Cradle to Stage: Stories from the Mothers Who Rocked and Raised Rock Stars. In it, the former English school teacher speaks to the mothers of Beastie Boys' Mike D, Rush's Geddy Lee, Miranda Lambert, Amy Winehouse and more.
Virginia, who is in her late seventies, ended up interviewing a total of 18 mothers. "They all said, 'Oh, there's nothing interesting about me except for my son or daughter.' And then it turned out that wasn't true at all," she said.
The Foo Fighters are believed to be working on new material at the moment. They are scheduled to perform live shows across June and July but Front man Grohl announced that the band will spend much of 2017 recording their ninth studio album.
Over the course of the band's career, four of their albums have won Grammy Awards for Best Rock Album. As of 2015, the band's eight albums have sold 12 million copies in the U.S., and 30 million worldwide.
They debuted a brand new track from their upcoming new album earlier this week called 'The Sky Is A Neighbourhood'. Grohl and drummer Taylor Hawkins were performing at benefit show in San Francisco with Wallflowers keyboardist Rami Jaffee, when they aired the new track. It's been described as a"sombre and blues-driven anthem."
Introducing the song Grohl said, "I figured on the way up here, I thought 'F- it let's play a new song man'. We've never played this song in front of anybody. It's called 'The Sky Is A Neighbourhood'."
We'll keep you updated!
Photo Credit: Ed Vill