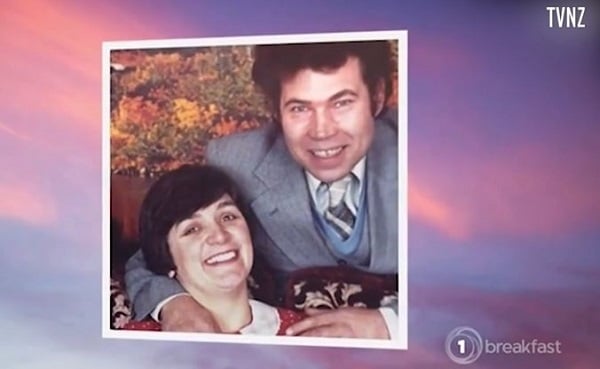 A morning breakfast show has been tricked into wishing a happy wedding anniversary to killers Fred and Rose West. The New Zealand tv network were hoaxed into believing that the serial killers were celebrating a special milestone.
A photo of the couple was shown onscreen as part of their Today's the Day item, where viewers send in photos of loved ones, as well as messages, to mark special occasions. This is a popular segment on the daytime series, usually giving shout-outs to people celebrating birthdays and other family milestones.
The show's presenters were completely unaware of the fact that they were being duped into giving the killers airtime. To make things worse for the show, the hosts momentarily danced to 'We are Family' by the Sister Sledge as they made the call out. The track was playing in the background as a picture of Fred and Rose embracing was shown onscreen.
Presenter Jenny-May Clarkson said: "Today is the day that Francis and Violet Eastwood celebrate their 30th wedding anniversary. I love it!"
As the photo of the Wests appeared on-screen, she continued: "This is their children's favourite photo of them, taken on their honeymoon way back in 1990."
Oblivious fellow host Indira Stewart then poked fun at Fred's hairstyle. "Get that afro though," she joked. She also said that their children called them "the most caring parents they could ask for."
The New Zealand series Breakfast, which is broadcast on TVNZ, did not realise the photo they were sent was of two of the UK's most infamous killers. The network "sincerely apologised" for their mistake.
General Manager of Corporate Communications, Rachel Howard, spoke to The New Zealand Herald.
"An image of Rosemary and Fred West was sent into the Breakfast team along with a false back story for our 'Today's the Day' segment."
She continued: "Jenny-May spoke to our viewers as soon as the mistake was realised and noted that we take responsibility for getting things right and we are now adding extra steps to make sure we're not taken advantage of in this way again."
Fred and Rosemary West kidnapped, tortured, and dismembered at least twelve young women between 1967 and 1987. Two of their own children were among their victims. Many of those they killed were buried at their home in Gloucester. Fred escaped justice by taking his own life on New Year's Day in 1995. Rose was convicted of 10 murders, including that of her daughter. She was sentenced to life in prison.