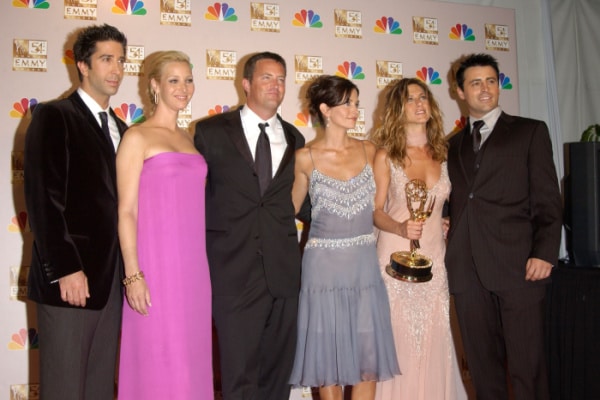 Would you like to listen to the article instead of reading it?
Friends actors Matt LeBlanc and Courteney Cox paid moving tributes to their late co star Mathew Perry, who passed away last month.
Perry who starred in the sitcom as the witty and sarcastic Chandler Bing, was found dead in a jacuzzi at his Los Angeles home.
He was 54 years old.
"with a heavy heart"
Paying tribute to his co star, Matt LeBlanc who played Chandler Bing's room mate and best friend Joey Tribbiani in Friends, shared this moving message via his Instagram account.
"Matthew. It is with a heavy heart I say goodbye", LeBlanc wrote. "The times we had together are honestly among the favourite times of my life".
"It was an honour to share the stage with you and to call you my friend", he continued. "I will always smile when I think of you and I'll never forget you. Never".
"Spread your wings and fly brother you're finally free".
He concluded by writing, "Much love. And I guess you're keeping the 20 bucks you owe me".
"He was funny and he was kind" – Courteney Cox Pays Tribute To Mathew Perry
Meanwhile, Courteney Cox who played Monica Geller in the sitcom, alongside Mathew Perry, shared one of her favourite scenes with her co star from the series.
Cox's character Monica subsequently became romantically involved with Chandler Bing. The couple later tie the knot and adopt two children at the end of the series.
"When you work with someone as closely as I did with Matthew, there are thousands of moments I wish I could share. For now here's one of my favourites", Cox wrote.
"To give a little backstory, Chandler and Monica were supposed to have a one night fling in London. But because of the audience's reaction, it became the beginning of their love story", she added.
"In this scene, before we started rolling, he whispered a funny line for me to say. He often did things like that. He was funny and he was kind".
Check out the post in full here.
Lisa Kudrow who starred as Phoebe Buffay in Friends, also shared her own moving tribute to Perry via Instagram. Check that out here.
Courteney Cox and Matt LeBlanc had previously signed a statement following Perry's death last month, alongside Jennifer Aniston and David Schwimmer.
"We are all so utterly devastated by the loss of Matthew", the cast said in this joint statement. "We were more than just cast mates. We are a family".
See that statement in full and Nova's report here.