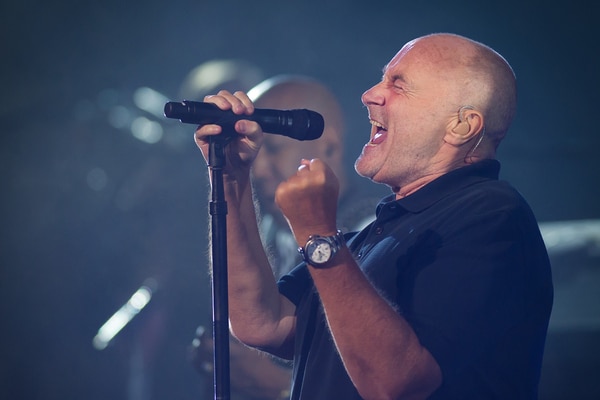 Genesis have kicked off what they claim to be their last ever tour.
The band's 14-date European tour got underway on Monday night at Berlin's Mercedes-Benz Arena.
The show saw Genesis play hits like I Can't Dance, That's All and Land of Confusion, along with Peter Gabriel era tunes I Know What I Like, The Lamb Lies Down on Broadway and The Carpet Crawlers.
You can watch Genesis perform Tonight Tonight Tonight and Invisible Touch in the video below.
Since 1992, Genesis have only played the first half of Tonight Tonight Tonight during live shows, and haven't played it in its entirety since 1987.
The tour has been hyped as the last chance for Genesis fans to see the band live.
"When we do the final show next year, that will be it," keyboardist Tony Banks said last year. "So I'd say if you want to see Genesis, don't put it off 'til the next one. We're not like the [Rolling] Stones."
"We're all men of our age, and I think to some extent, I think it probably is putting it to bed," said frontman Phil Collins. "I think yeah, I think just generally for me, I don't know if I want to go out on the road anymore."
The tour is named The Last Domino? however, with that question mark leaving things open regarding a future reunion of Genesis.
Fans will have to make do without Collins' drumming however as health issues now prevent him from picking up the sticks for that iconic beat drop from In the Air Tonight.
Collins has been suffering nerve damage since 2007, when a spinal injury caused damage to vertebrae in his upper neck.
Collins continues to sing while seated in a chair, with his son Nic taking over drumming duties.
"I'm kind of physically challenged a bit which is very frustrating because I'd love to be playing up there with my son," Collins said last year. "I would love to[play drums] but, you know, I mean I can barely hold a stick with this hand, so there are certain physical things that get in the way."
Collins spoke enthusiastically of his son's musical talent.
"He plays a bit like me when he wants to," he said. "I'm one of his many influences, being his dad. He plays like me and he kinda has the same attitude as me, so that was a good starter."
Former Genesis guitarist Steve Hackett is touring the US this Spring under the banner Genesis Revisited. His shows will include a full performance of Genesis's 1977 double live album Seconds Out.