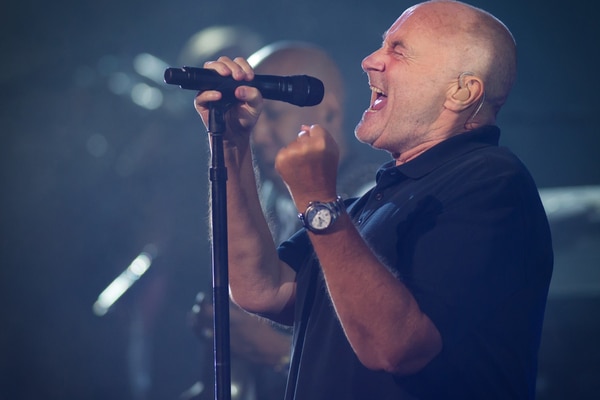 Genesis have been forced to postpone their reunion tour due to a positve test for Covid-19.
In what was their first shows since 2007, Genesis had been performing live for their "The Last Domino" Tour, which kicked off in Birmingham last month. 
The band were due to play live in Glasgow's SSE Hydro on October 8. They were then due to perform three shows in London on October 11, 12 and 13. Following news of this positive Covid case, these gigs have been cancelled.
"hugely frustrating"
Releasing a statement calling this cancellation "hugely frustrating", Genesis said, "Following guidance and advice from the Government, it is with huge regret that the final four shows of Genesis' Last Domino? Tour (this evening (8/10) at Glasgow SSE Hydro and 11, 12, 13 October at The O2 in London) have had to be postponed due to positive COVID19 tests within the band". 
— Genesis (@genesis_band) October 8, 2021
"We are working to reschedule them as soon as possible and will announce the new dates through our website (www.genesis-music.com) and social media channels as soon as possible," the message added. All tickets will remain valid and ticket holders will be contacted by their ticket providers".
The band also added, "This is a hugely frustrating development for the band who are devastated with this unlucky turn of events. They hate having to take these steps but the safety of the audience and touring crew has to take priority. They look forward to seeing you upon their return". 
The Last Domino?
Speaking ahead of these gigs, Phil Collins said that this would be the last tour for the band.
"This English and American tour, that will be enough for me", he said.
Phil Collins also said in a separate interview that he would struggle to play the drums again due to his ill health. His son Nic had been playing drums for this Genesis tour.
"I'm kind of physically challenged a bit which is very frustrating because I'd love to be playing up there with my son", he said.
More on this from Nova here.