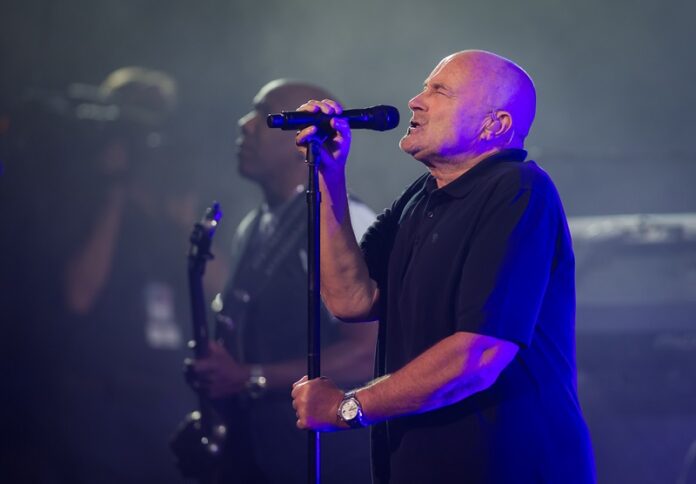 Genesis have once again delayed their 'The Last Domino?' reunion tour because of the pandemic.
It was originally due to start in November 2020, then it was moved to April 2021. It will now begin with two shows at Dublin's 3Arena on September 15 and 16, 2021. Tickets can be purchased here. The tour will end on October 13 at London's 02 Arena.
The band have only announced dates for Ireland and the UK but dates for mainland Europe and America will be revealed at some stage. In a statement announcing the delay, the band said "We're ready, but the world isn't…yet".
The announcement was released with a 50 second video that shows the band rehearsing for the concerts. You can check out the video below.
The video is the first footage of the Genesis since their 2007 reunion tour. Since then Phil Collins has had many significant physical health problems which has left him unable to play the drums or stand for an extended period of time. Collins will be singing while sitting on a chair near the front of the stage, like he did on his previous tours.
His son, Nic will be taking over the drumming duties. He has played with his dad for the past five years and doesn't miss a beat when it comes to performing.
Rounding out the line up of Genesis will be founding members Tony Banks and Michael Rutherford along with long time touring guitarist/bassist Daryl Stuermer.
The rehearsal footage also shows that the band will be joined by two back up singers. This is a first for the band. It is also proof that Collins cannot perform to the same levels he use to do previously.
Genesis have kept the set list a close guarded secret but have promised fans a mix of hits and fan favourites. In the rehearsal video, the band are playing 'Behind The Lines' from the 1980 record 'Duke'.