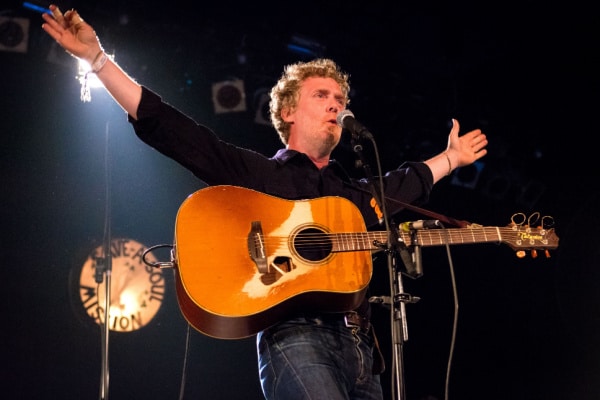 Glen Hansard has spoken of his sheer delight at becoming a father for the first time at the age of 52, explaining how it has blown his heart "wide open".
Last October, Hansard and his partner, poet Maire Saaritsa had a son Christy.
Speaking recently, Glen Hansard called becoming a parent "the most incredible thing that has ever happened". 
"You would imagine anyone would say that…that's exactly how it feels, it's the most abstract and beautiful", the singer added.
"I didn't stop"
Glen Hansard is set to take part in that annual Christmas Eve "Big Busk", which is to return to the streets of Dublin for the first time since the pandemic.
This event is in aid of the Simon Community, featuring household names such as Sinead O'Connor, Bono, Hozier, Imelda May and others.
On the busking event, Hansard revealed that this all came about after he felt guilty for snubbing a group of Simon Community carol singers, while he was out Christmas shopping.
"How it started was, Simon were doing their Christmas carolling, I was in town trying to get the last few bits and they asked me to sing a song", Hansard said.
"I didn't stop because I was too busy and I felt bad the next day. I went back into town and I took out the guitar and I decided, 'I'll play a few songs and I'll give the money to the carollers". 
"Then Mundy was there and he jumped in with me and John Sheahan (The Dubliners), Damien Dempsey, Imelda (May)…because everyone was out shopping. Suddenly we had a busk, we had a situation where people were playing songs… Liam O Maonlai came long and he did something. That's where the genesis of the thing is". 
"Would you be up for singing a few songs?"
Hansard who began busking on the streets when he was 16 years old, explained how he crossed paths with Bono by chance one day, and the rest is history.
"Bono's car broke down at four o'clock in the morning. I helped him push his car into the garage and I said, 'Would you be up for singing a few songs on Grafton Street?", the Frames singer revealed.
He continued, "And he was like, 'What is it?' I said, 'We're just doing a bit of busking and then we give the money to Peter McVerry or Simon or whoever".
Adding, "He said, 'What's it like?' I said, 'Here's the deal, there are no lights, there's no security, there's no tickets, nothing, there's not even a stage.' He was like, 'F**k it, I'll be down…and then he came down. I'd had very little contact with him before that". 
Hansard also paid tribute to Bono for joining in the spirit of the busk. He added how "someone with a self-confessed massive ego is able to leave it at the door and go, 'Right, let's do this". 
According to Hansard, Bono's contribution to the busk does not end there, as the U2 singer also donates money to charity.