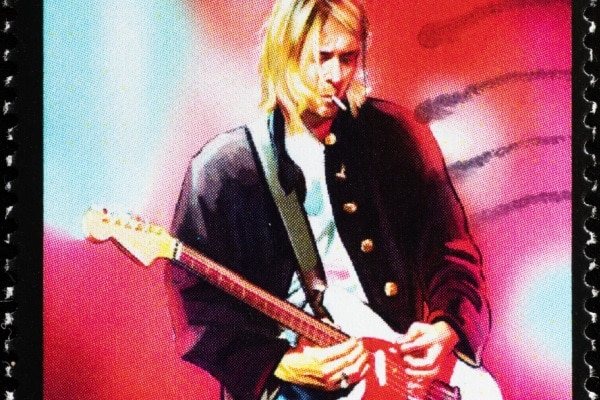 Would you like to listen to the article instead of reading it?
A guitar which was used by the late singer Kurt Cobain at Nirvana's last ever live show, is to go under the hammer.
The blue Fender Mustang electric guitar, which was used by Cobain during Nirvana's tour dates between 1993 and 1994, is expected to fetch between one and two million US dollars, according to Julien's Auctions.
The guitar is part of a list of 'Rock and Roll' items announced by Julien's Auctions to mark its 20th anniversary. The list also includes a Fender Stratocaster, also played by Cobain, which is expected to sell for between $500,000 and $700,000.
The blue Fender Mustang electric guitar was used by Cobain during Nirvana's final ever show at Munich's Terminal Einz's in March 1994. This show took place a month before the singer's tragic death.
Other Cobain memorabilia up for auction also includes a button-front argyle cardigan, his signature distressed and patched Levi's button-fly blue jeans with rips, cassette tapes with notes, along with a packet of cigarettes, an Utero promotion poster and more.
Other items also include in this Played, Worn And Torn: Rock N Roll Iconic Guitars And Memorabilia Collection, includes guitars previously owned by Eric Clapton, Elvis Presley, Dolly Parton and Slash.
https://twitter.com/RobbReport/status/1711525239664853472
"auction of a lifetime"
Speaking about the collection, President and founder of Julien's, Darren Julien said, "For Julien's two-decade anniversary, we're turning it up to 20 with this definitive music auction of a lifetime that encompasses all genres from classic rock, punk, hard rock, metal, progressive, grunge, rap, country, the blues and beyond".
"From the stage to studio, we've curated over 1,000 of the most culturally significant and historically important music artefacts ever to be offered for sale to the public. It has been our privilege and honour to be entrusted in preserving the legacy of rock and roll through the years at our annual tentpole auction event which we are excited to hold".
This guitar collection will launch on November 16. Traditional sessions will take place on November 17 and 18 at the Hard Rock Cafe Nashville.
The exhibition will also travel to London, taking place from 17 to 22 October.
Proceeds raised will go towards Kicking The Stigma, a mental health initiative.
Back in May, a guitar smashed by Kurt Cobain was also sold for $600,000 at an auction.