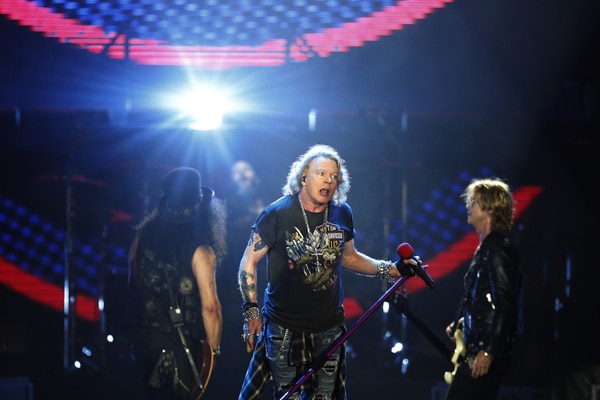 Guns N' Roses have announced the upcoming release of a four track EP.
Last Friday, September 24th, Guns N' Roses released a new song titled Hard Skool, which lends its title to the upcoming EP.
The EP is scheduled for release on February 25th. It will mark the first new material from a GNR line-up with Axl Rose, Slash and Duff McKagan in 28 years. Both Slash and McKagan left the band in 1993 following the release of covers album The Spaghetti Incident, only to rejoin in 2016.
The four track EP will include Hard Skool, the recently released single Absurd, and live versions of classic tracks Don't Cry and You're Crazy. June 24th will see the release of a 7″ record featuring Hard Skool and a live version of Absurd.
The title track was recorded during GNR's Chinese Democracy sessions back in 2008. Under the original title of "Jackie Chan," the track failed to make the final cut of the album.
Similarly, Absurd was a discarded Chinese Democracy track that began life under the title 'Silkworms'. The song was debuted during a performance at Boston's Fenway Park on August 3rd. Hard Skool received its live debut a concert in Baltimore last weekend.
McKagan teased a new album back in 2019 but was non-committal regarding any specific details.
"There's never been a direct schedule on how we do things," he said. "I've heard some magnificent stuff that Axl has, really cool stuff he's been working on. So I'm excited about the possibilities of that, of course. The album is real. But the fun part and the cool part about Guns N' Roses is we don't really talk about it. What happens next just happens."
After a concert at Chicago's Wrigley Field on September 16th, Axl Rose revealed that he had been suffering from suspected food poisoning.
"A note to Chicago… I got to the show feeling great but started getting sick pretty early on," he wrote on social media. "It progressed to where I was throwing up and was lightheaded. Wouldn't have been surprised if I'd fallen off the front of the stage. I'd be fine then not, fine again then not all night. Was pretty crazy but the crowd was great n' I was in a great headspace n' we had fun."
Fearing the worst, Rose took a COVID test but tested negative.
"Luckily the COVID test was negative," Rose wrote. "Def messed with my vocals in places. Just glad we got thru it n' it didn't mess with the show too bad. I'm a lot better now. Seems most likely to be food poisoning."
A note to Chicago…
I got to the show feeling great, but started getting sick pretty early on. It progressed to where I was throwing up & was light headed. Wouldn't have been surprised if I'd fallen off the front of the stage.

— Guns N' Roses (@gunsnroses) September 17, 2021