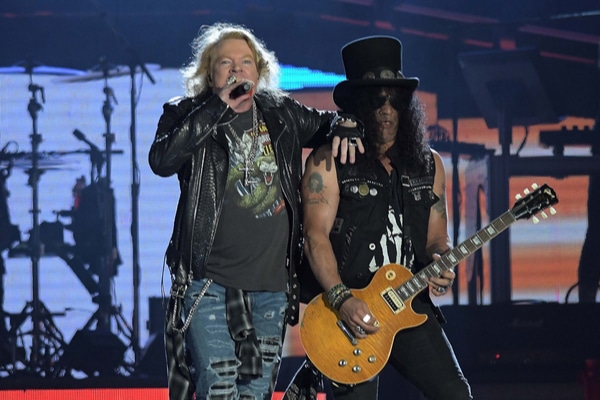 Guns N'Roses celebrated the beginning of their US Live Tour with a cover of the Stooges "I Wanna Be Your Dog" over the weekend. This was the band's first live performance in 16 months.
The first gig of this eagerly anticipated North American tour, took place in the Hersheypark Stadium, Pennsylvania. It was also performed in front of roughly 30,000 people.
Listen to Guns N'Roses cover "I Wanna Be Your Dog"
Slash and co's cover of the Stooges' "I Wanna Be Your Dog" saw Duff McKagan on vocals. Check it out below.
https://www.youtube.com/watch?v=0fehINYG5T0
The setlist lasted for 21 songs. It also saw versions of Wings' "Live And Let Die", Velvet Revolver's "Slither" and of course Bob Dylan's "Knockin On Heaven's Door".
The band also performed some of their own classic hits. These included "Sweet Child O'Mine", "Welcome To The Jungle" and "November Rain" among others. They finished with "Paradise City".
The band posted on their social media accounts.
The first show of the tour! Great Fn night at Hershey, PA. Who was there? pic.twitter.com/t4WIzGZWVr

— Guns N' Roses (@gunsnroses) August 2, 2021
Guns N'Roses will also continue their tour tonight when they perform live in Boston. This will be followed with a string of tour dates all over the US until early October.
Elsewhere, the band's guitarist Slash celebrated 15 years of sobriety last month.
Previously, the rocker had been diagnosed with cardiomyopathy from his alcohol abuse. However, his long term girlfriend Meegan Hodges celebrated this milestone online.
She wrote, "Baby, Congratulations on your 15 YEARS of SOBRIETY!", she wrote. "An addict who achieves recovery is capable of achieving anything' (wise words someone said). I am so very proud of you every day but today I am so very extra proud of you".
"I love you to the moon and back!".
Slash had previously discussed his addiction issues in his 2007 autobiography Slash.
"I wasn't fine. But I was almost ready to admit it", he wrote. "I knew that my debauchery needed to end. I had planned to get some space from my wife and from my band after I'd allowed myself those predetermined four months to let it all hang out; I knew I was in need of some solace and quiet".  
More on that story here.