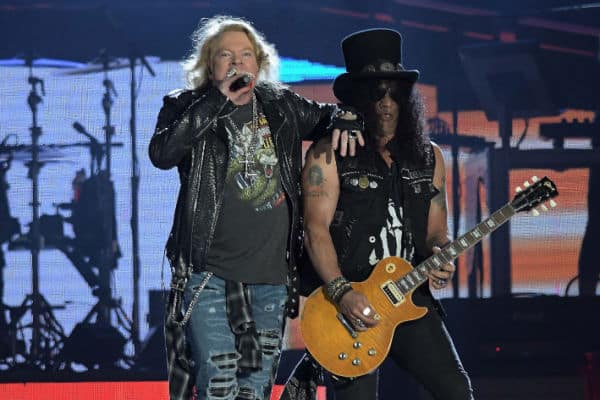 Guns N'Roses have announced a set of dates for a major World Tour.
This tour will see the 'Sweet Child O'Mine' hitmakers venture across Europe in June and July, along with North America in August.
The European leg of this Guns N'Roses tour kicks off in Tel Aviv's Park Hayarkon on June 5, along with shows at Oslo, Madrid, Copenhagen and more, across those two months.
On June 27, Guns N'Roses will hit the UK for a show at Glasgow's Bellahouston Park.
Guns N'Roses will then take to the stage in Hershey, Pennsylvania on August 11, before conluding the tour in Vancouver, Canada in mid-October.
Tickets will go on sale this Friday (February 24) at 10am. You can get your UK tickets here. Along with European Tour tickets here, and North American tickets here.
Welcome to another epic trip around the globe – get ready for the GN'R 2023 World Tour! Get tickets starting Friday. https://t.co/h6944iWRGh pic.twitter.com/enl3dmTDxi

— Guns N' Roses (@gunsnroses) February 21, 2023
Guns N'Roses For Glastonbury
News of this mega world tour comes just weeks after Guns N'Roses' Duff McKagan appeared to confirm the band's spot at Glastonbury 2023.
The bassist let it slip that the band were set to perform at the festival, when speaking about their hectic tour schedule.
His exact words were "…and Glastonbury is gonna be iconic". 
Guns N'Roses will also perform in Hyde Park as part of this major tour. More from this Nova report here.
2023 has been a very eventful year for Guns N'Roses so far, as the video for their 1991 hit 'November Rain' also reached 2 billion YouTube views recently.
The track was originally released as part of their two volume set Use Your Illusion I and II, reaching number three in the Billboard 100 chart following its release that year.
Costing a reported $1.5 million to make, the video also explored a troubled rock star who was grieving for his partner, who died from suicide after discovering about his multiple infidelties.
The rock star was also played by Guns N'Roses frontman Axl Rose, whose girlfriend at the time Stephanie Seymour played the woman. Check out the video and more here.