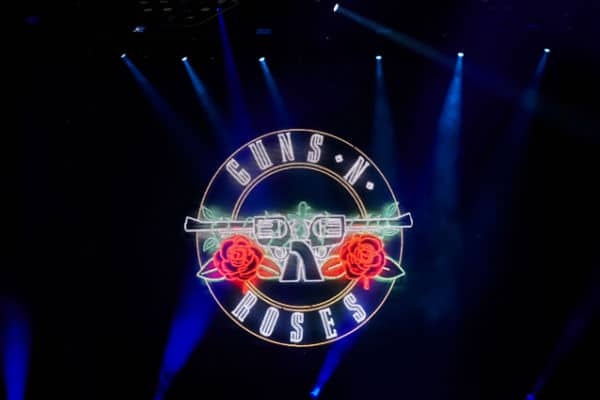 The music video for Guns N'Roses' popular track 'November Rain' has reached two billion YouTube views.
Featuring as the third single from the band's two volume set Use Your Illusion I and II, the single reached number three on the Billboard Hot 100 singles chart, following its release in 1991.
'November Rain' 
The video itself which was directed by British video directed Andy Morahan, was based on a story from Guns N'Roses songwriter and collaborator Del James.
The track's video which cost a reported $1.5 million to make, explores a troubled, rock star (played by frontman Axl Rose) who is grieving over the loss of his partner, who died by suicide after she discovered the truth over her lover's repeated infidelities.
She was portrayed by Rose's girlfriend at the time, Stephanie Seymour.
The official video for 'November Rain' which lasts for 9 minutes and 16 seconds, also features a number of props and set pieces.
Such set pieces include a wedding in a white chapel, footage of the band onstage at The Ritz club in New York, Guns and their girlfriends chilling at LA's infamous Rainbow Bar And Grill.
It also includes a helicopter-filmed sequence of a bare-chested, cigarette-smoking Slash soloing outside the church, and scenes with an orchestra conducted by Michael Kamen, who would go on to work with Metallica on their 1999 S&M album.
You can check this video for yourselves below.
Axl Rose Pays Tribute to Lisa Marie Presley 
Last month, Guns N'Roses frontman Axl Rose played the track at the memorial service for Lisa Marie Presley, who passed away aged 54.
Lisa Marie was the only daughter of music legend Elvis Presley and ex wife Priscilla.
"I do know Lisa loved her family very much, and was fiercely protective of her father and his legacy", Rose said before performing the track. "I never in a million years imagined being here, singing under these circumstances". 
Afterwards, Rose revealed that Lisa Marie had requested for the track to be played at her memorial service.
"Yes, it was my understanding she had actually talked about, if the situation… So that's why I was asked to do it. So of course I had to be here", Rose said.
Check out the performance from Rose here.
Elsewhere, Guns N'Roses also released a new version of 'November Rain' last year. 
The band also seem set to perform at Glastonbury 2023. Find out more here.