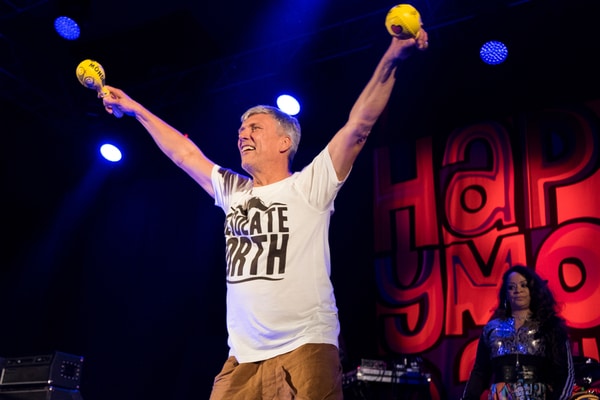 Happy Mondays dancer/percussionist Bez has been speaking about his experiences with COVID-19.
In a new interview with The Star, Bez (real name Mark Berry) claims he believed he was going to die from the virus.
The 57-year-old Mancunian was hospitalised with the virus a week before it was officially classified as a pandemic.
"I had Covid a week before they made the announcement," he revealed. "I couldn't breathe and I couldn't tell if it was my heart or my lungs.
"I got to the hospital and I said, 'I've been having this heart attack for three days' and they plugged me into the machines and everything and I had a swollen heart and a virus.
"I really seriously thought I was going to die."
At the time of catching the virus, Bez was in training for a boxing match. He credits this with saving his life.
"I continued my juicing and taking my vitamin C, drinking my apple cider vinegar and I did get over it very, very quickly," he said.
Bez also detailed his Happy Mondays bandmate Shaun Ryder's COVID-19 ordeal.
"Shaun had it for like three weeks," said Bez. "He was hallucinating and having visitations from the aliens telling him he would be all right."
Bez said he feared for his bandmate due to his unhealthy lifestyle.
"I was quite worried about old Shaun as he isn't the healthiest man in the world," Bez confessed. "I've always told him to take vitamin C and all that but he says, 'I'm allergic to it'. But it transpired he could only eat fruit as he was that ill, and he has alopecia so all his hair has fallen out, but from only eating fruit and getting his vitamin C his hair started growing back. Like I told him, it was a Covid miracle!"
Bez's health scare inspired him to launch his YouTube channel Get Buzzin With Bez! The series of videos see the Mondays hypeman being coached to fitness by a personal trainer.
"I'd like to think I'm somewhere between Joe Wicks and Mr Motivator," Bez said of his fitness series. "I've started this new year seriously unfit, with a fat belly and creaky hips, and I can't stop eating chocolate. Last lockdown I got unfit, fat, lazy and into some seriously bad eating habits. This year, this lockdown, I need to sort it out sharpish.
"At the very least, I know I'll be making people smile, at best I'll be helping people get fit and mentally happier alongside me."
Bez is set to take part in a charity wing-walk at the end of September.
"Everyone going through life suffers highs and lows, and when you're at one of those low points, it's good to know that there's a bit of support out there for you," he said of the charity event, which aims to raise mental health awareness. "The most important thing is not being afraid to speak out and talk, because when you share your problems, it always lightens the load."
Bez recently made his vocal debut on Flying Bus, an Acid House influenced track by DJ Doorly.
"This is the first vocal track I've ever brought out and I'm nervous and excited at the same time," Bez said.
You can check it out below.