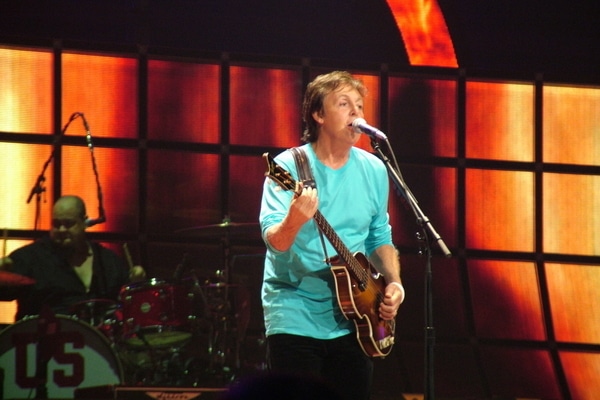 Paul McCartney has taken to social media to encourage his fans and followers to get vaccinated against COVID-19.
The Beatles star took to Twitter and Instagram to share a picture of himself receiving a jab.
Clad in a beanie hat and facemask, the singer/songwriter captioned the image with the message "BE COOl. GET VAXX'D – Paul."
View this post on Instagram
It's unclear when the picture was taken. Given his age of 79, it's likely McCartney would have received his vaccination quite some time ago. The UK began vaccinating its over-70 population in January.
McCartney has been on board with the jab since the announcement of a vaccine breakthrough last year.
"The vaccine will get us out of this," he said back in December. "I think we'll come through it, I know we'll come through, and it's great news about the vaccine. I'll have it as soon as I'm allowed."
McCartney is one of 38 million to have received both vaccination jabs in the UK so far. 46 million have received at least one jab.
The Liverpudlian is the latest star to promote the vaccine to their fans. Over the weekend, Mr. Lordi, aka Tomi Petteri Putaansuu, of Finnish Eurovision rock group Lordi, received his second jab. Mr. Lordi posted a picture of himself receiving the shot, clad in his famous costume.
Mr. Lordi, aka Tomi Petteri Putaansuu, of the Finnish hard rock band Lordi, gets the second jab of his COVID-19 vaccination in Rovaniemi, Finland. https://t.co/xEn2lHnmCr pic.twitter.com/CpwqJmIEXg

— ABC News (@ABC) August 2, 2021
Last month 18-year-old pop star Olivia Rodrigo visited the White House. There she filmed a promo with President Joe Biden and national virus chief Dr. Anthony Fauci. The video was made to encourage young people to get vaccinated. In the US, only 38% of people aged 18-29 had received at least one shot at the time of Rodrigo's visit.
Olivia Rodrigo is at the White House today to meet with President Biden and Dr. Fauci and discuss the importance of young Americans getting vaccinated. pic.twitter.com/s95KtOkrsF

— The White House (@WhiteHouse) July 14, 2021
Country Music Association's Entertainer of the Year Eric Church was pictured receiving his shot on the cover of Billboard earlier this year. Rural whites are the demographic most reluctant to receive the vaccine in the US. It was hoped the endorsement of a county star would sway their opinion.
Other outspoken proponents of the vaccine include Dolly Parton, Ozzy Osbourne, Mariah Carey and Tony Bennett.
Not all music stars are onboard with the vaccination.
Eric Clapton criticised the "propaganda" around vaccine safety. He claimed to have suffered a "disastrous reaction" upon receiving his jab. "I feared I would never play again," he said, claiming his hands became "pretty much useless for two weeks." The guitarist has since refused to play at venues that require concert-goers to produce proof of vaccination.
Other opponents of the vaccination programme include former Stone Roses frontman Ian Brown, singer MIA and Van Morrison.