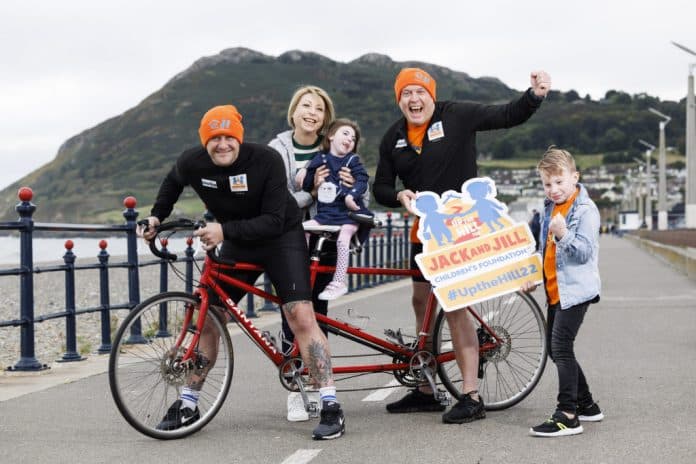 The Carroll family from Kells, Co. Meath are among the 412 families across Ireland currently under the care of Jack and Jill
They are among the reasons why PJ and Jim are doing their tandem "Hilloween" challenge. on Friday October 28th to raise some much-needed funds for families that find every day, an uphill challenge.
Jack and Jill is asking people in every county to support local families in their community by going 'Up the Hill for Jack and Jill'. The charity is asking the public to climb any hill, any day, anywhere and by any means. Whether you go high or go low, it's the taking part that keeps Jack and Jill on the go!
Register today for just €18 per person at JackandJill.ie and support one hour of specialist in-home nursing care for a local Jack and Jill family 
Willow, aged five, has a condition called spastic quadriplegia, cerebral palsy and epilepsy. At birth her prognosis was very poor, and parents Tracy and John took Willow home to spend her final days with them and her big brother Noah. But against all the odds, Willow survived.
Tracy Carroll, Mum to five-year-old Willow, said, "Willow is on PEG feeding and, due to her epilepsy and other complex issues, is on five different medications, which are administered twice a day. No day is ever the same and we cannot plan forward or take anything for granted. With the PEG feed and medications, free time is limited so it can be hard to leave the house.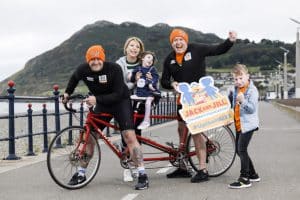 "In the darkness, our guardian appeared – our angel Anne Reilly who is our Jack and Jill Liaison Nurse Manager, and now also a great friend. She came into chaos and calm descended when she made sense of what was happening and knew what we needed to do. Jack and Jill provide nursing hours to give us time as a family; time to do the simple tasks that we would have taken for granted before. The foundation provides unwavering support, friends and family."
HEAR PJ & JIM'S CHAT WITH TRACY HERE:
Last year PJ rode his penny farthing down Howth Head to Hill 16 in Croke Park for The Jack & Jill Children's Foundation. This year Jim is joining PJ with both of of them on a tandem bike going 30km from Hill 16 to as close as we can get to the top of Bray Head!
It's gonna be come great craic but the pair really hope they inspire YOU to do your own challenge, however big or small, just go "Up the Hill" for Jack & Jill this October.
Register your challenge and get on board at www.jackandjill.ie or donate whatever you can to The Jack & Jill Children's Foundation by calling 045 894 660
Last year's Hill to Hill challenge won the Gold Community / Social Action Award at this year's IMRO Radio Awards.