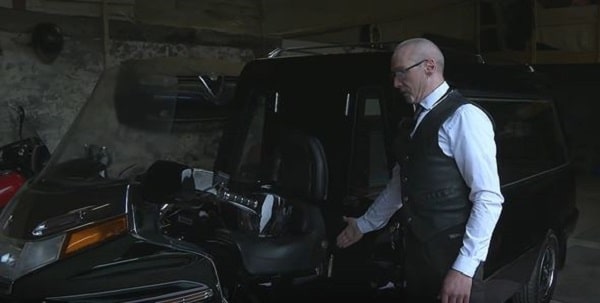 Cork man and motorcycle enthusiast Pat Noonan has built a trike hearse, the first of its kind in Ireland. By combining a 1996 Ford Scorpio hearse and an old 1988 Goldwing GL1500 motorcycle, Pat can run his service.
Pat calls his funeral service Ride in Peace and wants "to bring a touch of style to a poignant occasion."
As a keen biker, Pat has been refurbishing lots of old motorbikes for a while. Although, none have come close to this project. Hundreds of hours were spent in his workshop, designing and building the hearse, but Pat describes it as a passion.
"I always loved building unusual things as a child. I was designing and building unusual bikes, cars and everything," he said.
After buying the hearse in Meath, Pat cut off the front of it and also the back off the bike. "We had to make a special chassis in order to bring the two together," he said.
"A lot of thought went into that because the vehicle is over a tonne in weight. So, it was essential that the design was robust and sturdy."
The idea to make a trike hearse came to Pat while attending a friend's funeral, some years ago.
"I was actually at a funeral of a biker friend of mine and there was a cavalcade of motorbikes behind an ordinary hearse."
"My friend was a biker all his life – ate, slept and drank motorbikes. Everyone else there were on their bikes behind the hearse and I thought this wasn't a very fitting way to bring him to his final resting place," said Pat.
Pat got to work on his project, hoping to create a more fitting way of casket transportation for bikers.
Pat's hearse is open for business after receiving blessing from local biker chaplain
Last weekend, local biker chaplain, Maurice Lynch gave blessing to the trike hearse and Pat undertook his very first funeral. He was tasked with carrying the remains of a family member, Michael Murphy, from Carrigaline church to the local graveyard.
"I was really honoured that I was asked to take Michael on his final journey. Back in the day Michael was a great biking man, loved his bikes and had a few nice machines. He's been very ill for two years. He would've really enjoyed this."
"If someone wants to go out in style and leave a fitting memory for their loved ones, I think it's a lovely way to do it. It's a celebration of life in death."