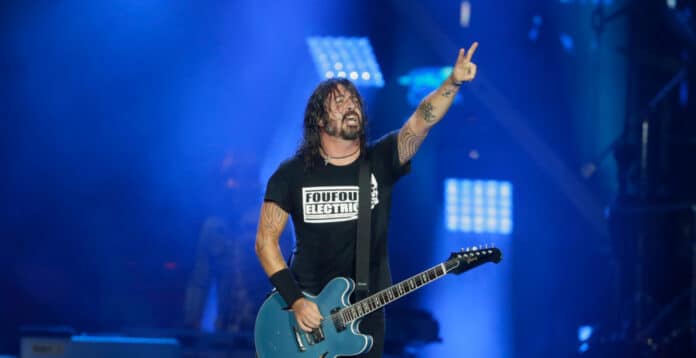 Dave Grohl's rivalry with Nandi Bushell has turned into a fascinating story throughout 2020. It's a story that that gives us a break from the doom and gloom of this year.
It all started in August when Bushell covered Everlong by the Foo Fighters on drums. Before the ten year old ripped into the cover, she challenged Grohl to a drum off battle. Grohl who doesn't use social media was inundated with text messages about the challenge. He posted a video of himself to the Foo Fighter's Twitter account drumming to Everlong.
More challenges were laid out and the two played drums for the Them Crooked Vultures song 'Dead End Friends'. Grohl wrote a song for Bushell and she returned the favour.
Now, the two have finally met. The New York Times organised a video call for them and it was posted on Bushell's YouTube Channel. You can watch the meeting below.
Grohl said to Bushell, "I can't believe I'm talking to you. I feel like I'm meeting a Beatle".
After Grohl met her parents, swapping stories about their childhood drumming experience and asking for tips, Grohl asked Bushell if she would be interested in collaborating on a track together.
"We should make a song together. Do you want to do that?" Grohl asked. Bushell responded in an excited manner by saying "Yes! Yeah, definitely" . Grohl went on to add "Well, I'm not playing drums, I'll tell you that" and raised his hands in surrender.
Grohl also invited the young prodigy to join Foo Fighters on stage when they return to the UK on their next tour.
"But it has to be at the end of the set, because you're gonna steal the show" Grohl said to Bushell. "It can't be at the beginning of the set. Because if you come out first, it's just all downhill from there" he added.
The first time Grohl noticed Bushell was when he saw her cover Nirvana's 'In Bloom'. He told the New York Times "I watched it in amazement, not only because she was nailing all of the parts, but the way that she would scream when she did her drum rolls"
He continued "There's something about seeing the joy and energy of a kid in love with an instrument. She just seemed like a force of nature."
Grohl isn't the only musician the ten year old has impressed. Queens of the Stoneage praised for her cover of 'No One Knows'. She covered Enter Sandman and played, the drums, guitar and bass for the cover. Kirk Hammett shared it on Instagram stating, "How could I not repost this?"
Bushell covered 'Guerrilla Radio' by Rage Against The Machine and again played the drums, guitar and bass on it. Rage guitarist, Tom Morello was so impressed that he sent her one of his new signature Fender Soul Power guitars. He wrote on social media "Hey Nandi, I'd like you to have this guitar as a gift from me to you because you rock so great, and to see someone rocking so great who is so young, it really gives me hope for the future."
In a year that has been filled with doom and gloom, this is a story that raises a smile.