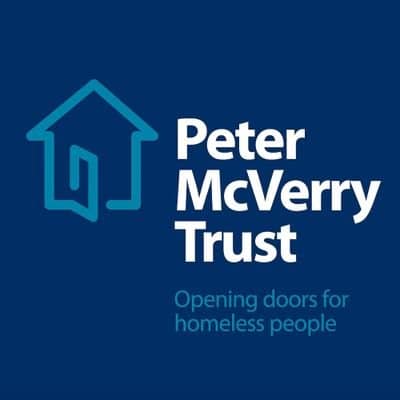 Peter McVerry Trust is implementing its emergency response protocols following the declaration of a category red wind warning by Met Eireann this evening for the entire country.
The following measures have been announced by Pat Doyle CEO of Peter McVerry Trust in order to protect people in homeless services and those currently sleeping rough.
Rough Sleepers:
·       Dublin: The Street Outreach Team in Dublin have been instructed to strongly encourage all rough sleepers that they encounter to access emergency shelter or other homeless services. Peter McVerry Trust will provide transport support to enable rough sleepers to take up these options.
·       Kildare: Our Newbridge service (Eyre Street – Tel -045 450990) and Athy Family Hub (Contact on 087 175 9524 located at former Dominican Priory) have been designated safe spaces for rough sleepers in the county and we are coordinating efforts with local groups at Kildare County Council. Transport is available to bring people to these services.
·       Our service at St Catherine Foyer, Marrowbone Lane, Dublin 8 will offer additional exceptional spaces to provide emergency overnight placements for 25 people.
·       Peter McVerry Trust is to open up the communal spaces (Kitchens, Dining Rooms & Living Rooms) at specific, appropriate city centre homeless services (Richmond Street and Aungier Street) to provide exceptional, emergency shelter to people sleeping rough.
·       Peter McVerry Trust has set aside additional space at our service in Firhouse, South Dublin and will be taking in rough sleepers from the South Dublin area.
·       Peter McVerry Trust homeless youth café at 12/13 Berkeley Street, Dublin 7 will operate on extended hours tomorrow, Monday 16th October, providing a safe and secure space to homeless person tomorrow all day and evening.
Persons Currently Accessing Homeless Shelters:
• All Peter McVerry Trust staff have been instructed to advise shelter residents to remain indoors for the duration of the storm and suspend all non-essential outdoor activities.
• Our one night only services, which total 64 beds are going 24 hour access until further notice allowing all residents to remain in the shelter.
Advice to Members of the Public
• If you come across a person sleeping rough in Dublin please advise that individual to go to the nearest Peter McVerry Trust service or call our head office on 01 823 0776 or email [email protected] or call our National Director of services Brian Friel on 087  055 22805.
Peter McVerry Trust remains in constant contact with local authority colleagues and the DRHE.