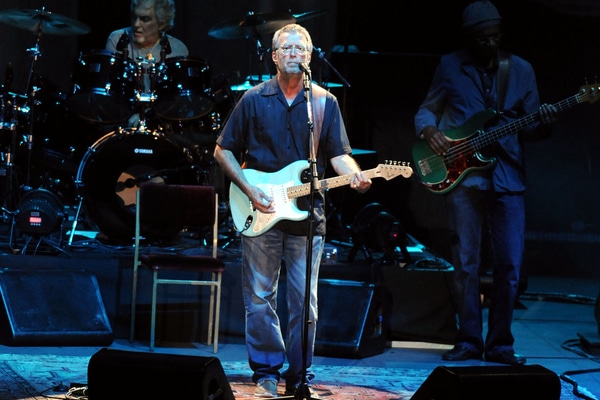 Eric Clapton has insisted that he is not "concerned with being misunderstood" over his views on Covid vaccines and other pandemic safety measures.
The singer has been very outspoken where his views on Covid vaccines and lockdowns are concerned. He also released anti lockdown track Stand and Deliver with Van Morrison.
On this collaboration, Clapton said, "And I joined forces with Van. I got the tip that Van was standing up to the measures. And I thought, 'Why isn't anybody else doing this?' And we go back; I've known him since we were kids. And I contacted him. I said, 'What do you think? What's going on?' And he said, 'I'm just objecting, really. But it seems like we're not even allowed to do that. And nobody else is doing it.' And I said, 'You're kidding. Nobody else?' And he said, 'Nobody else.' And I said, 'All, I'm with you. Is there anything I can do to help? Have you got any songs?' And of course, it was a silly, stupid question 'cause he writes two songs a day or something like that". 
Clapton Making a "rod for his own back"
Clapton made these "misunderstood" comments in an interview, which also saw him claim that he was inspired to express his anti lockdown views through his music.
He also discussed the response to his views, stating his ambivalence towards the jab.
"I'm making a rod for my own back by talking about the thing and the things", he said. "But one thing about the thing I would like to make clear – because I have to keep re-establishing it – is I'm neither anti or pro". 
He continued, "I'm freedom of choice, really, and respect for other people, and kindness, and the things that used to motivate, or were things to aspire to. Aspirations towards goodness. And I'm also quite, in an abstract way, religion – I believe in God and I think there's a purpose. And this seems to be my purpose for the moment".
Clapton also branded those who criticise him as "monsters". He accused them of "always going to be after people who are looking for truth or seeking something, a way forward".
"I'm not that concerned with being misunderstood," he added. "You can make decisions about what you're going to do or say without being overly concerned about the repercussions. When the repercussions happen, that's when maybe I will learn my lesson about, well you shouldn't have said that, or you should have said this".