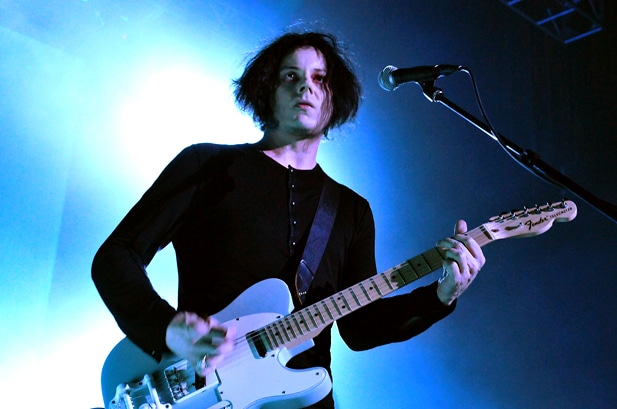 Jack White sure knows how to make a splash, after he proposed and then MARRIED his girlfriend, Olivia Jean, on stage during one of his gigs.
According to ABC television affiliate WXYZ, the proposal took place towards the end of White's set. The rocker was in the midst of performing the White Stripes' 2001 single "Hotel Yorba" when he proposed to Jean, whose band had opened the show earlier in the evening.
When White returned for an encore, they were joined by White's mother, Jean's father and Third Man Records co-founder Ben Swank, who served as officiant. The couple was then married on stage, with their respective bassists serving as best man and maid of honor.
White's wedding comes after a jam-packed day for the Detroit native — which, in addition to Friday evening's concert, included the release of his new album, Fear of the Dawn, and performing the National Anthem for the Detroit Tigers' Opening Day at Comerica Park.
The newlyweds first met when White — who also hails from Detroit — invited Jean to his Third Man Records studio in 2009, shortly after receiving a demo of her recordings.
This marks the third marriage for the musician born John Gillis. From 1996 to 2000 he was married to his White Stripes bandmate Meg White (he took her last name)
Recently Jack White explained why it took the White Stripes so long to confirm their split.
The duo announced in 2011 that they'd gone their separate ways. But their final album was released in 2007, and the band made only sporadic appearances since then.
Jack said initially they wanted to keep it open in case they changed their minds, but when he started to realize his solo music he didn't want to continually be asked about it.
In a recent interview with Rolling Stone, White discussed how his attitude towards life changed during the last two years — which, perhaps, made the singer more open to the idea of giving love a second shot after two divorces.