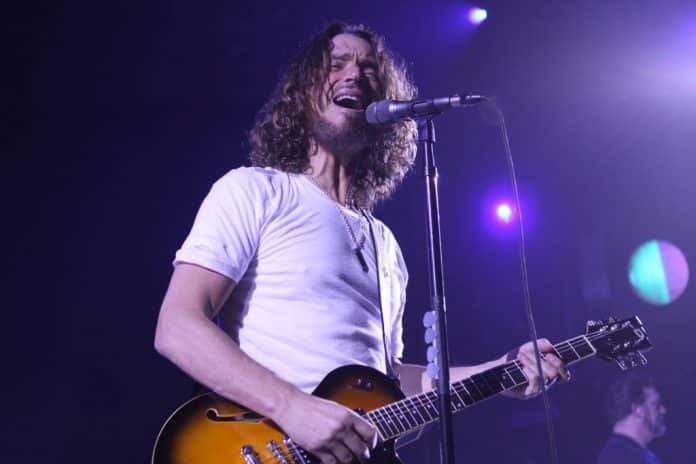 A new Johnny Cash album has been made by turning previously undiscovered lyrics and poems into new music. The album will be called 'Johnny Cash: Forever Words' and will also feature new music from Chris Cornell.
The record will be released on April 6th through Sony's Legacy Recordings. It will also feature Kacey Musgraves, Rosanne Cash, Alison Krauss & Union Station, Kris Kristofferson & Willie Nelson, Brad Paisley, John Mellencamp, Carlene Carter, Elvis Costello, The Jayhawk, Ruston Kelly and of course, the late Chris Cornell.
John Carter Cash, Johnny's son, was a co-producer on the new album and he described it as a 'monstrous amassment' of undiscovered material.
Chris Cornell sings track 'You Never Knew My Mind' and will be released nearly twenty-one years after Cash covered Soundgarden's track 'Rusty Cage' for his record 'Unchained'.
Check out the album trailer below.
Here's the full tracklist:
1. Forever/I Still Miss Someone – Kris Kristofferson and Willie Nelson
2. To June This Morning – Ruston Kelly and Kacey Musgraves
3. Gold All Over the Ground – Brad Paisley
4. You Never Knew My Mind – Chris Cornell
5. The Captain's Daughter – Alison Krauss and Union Station
6. Jellico Coal Man – T. Bone Burnett
7. The Walking Wounded – Rosanne Cash
8. Them Double Blues – John Mellencamp
9. Body on Body – Jewel
10. I'll Still Love You – Elvis Costello
11. June's Sundown – Carlene Carter
12. He Bore It All – Daily and Vincent
13. Chinky Pin Hill – I'm With Her
14. Goin', Goin', Gone – Robert Glasper featuring Ro James, and Anu Sun
15. What Would I Dreamer Do? – The Jayhawks
16. Spirit Rider – Jamey Johnson