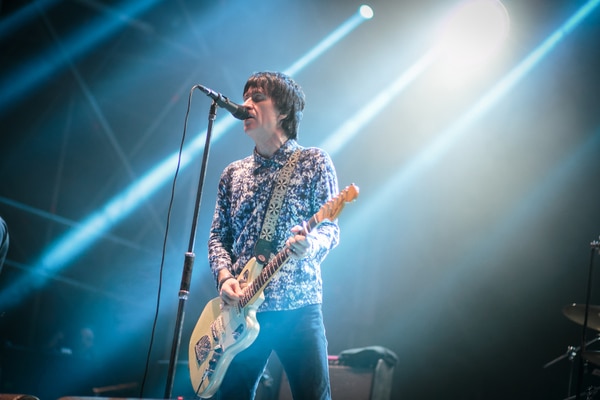 Former Smiths guitarist, Johnny Marr has released his new single "Spirit, Power And Soul" from his upcoming double album.
Arriving on October 15 via BMG Records, Marr's EP "Fever Dreams Pt 1" can be pre ordered here.
While a release date for the full album "Fever Dreams Pt 1-4" has yet to be confirmed, this record will be Marr's first released material since "Call The Comet" in 2018.
"A kind of mission statement"
"'Spirit, Power And Soul' is a kind of mission statement", Johnny Marr said of the new single. "I had an idea about an electro sound with gospel feeling, in my own words… an electro soul anthem". 
Check out the track list here.
'Fever Dreams Pt 1' track list:
01. 'Spirit, Power And Soul'
02. 'Receiver'
03. 'All These Days'
04. 'Ariel'
Here's the video.
It was also confirmed recently that Johnny Marr will warm up for a huge live show with Courteneers in Manchester's Old Trafford on September 25, by playing three small gigs in Leeds, Blackburn and London.
The tour dates are as follows.
SEPTEMBER
Monday 20 – Leeds, Stylus
Tuesday 21 – Blackburn, King George's Hall
Thursday 23 – London, Electric Ballroom
Saturday 25 – Manchester, Old Trafford Cricket Ground (supporting Courteeners)
Having gone on sale last month, tickest for the 50,000 capacity show sold out in just 90 minutes.
Johnny Marr on the Smiths' "Blind spot"
Back in July, Johnny Marr spoke about his time with the Smiths. He reflected on the band's blind spot when it came to being obsessed with media attention.
He admitted that the band would have benefitted from less media coverage. The Smiths split up in 1987.
"I was in a very very big 'music press' band, which now I'm older I think we could've done with less of that", he said.
He added, "I wouldn't say it was our downfall but I think it was a blind spot of The Smiths, being so occupied with the media and notoriety – particularly one certain member of the group".
"I think that could've been dialled down a bit and would've helped the group out".
More on this report from Nova here.