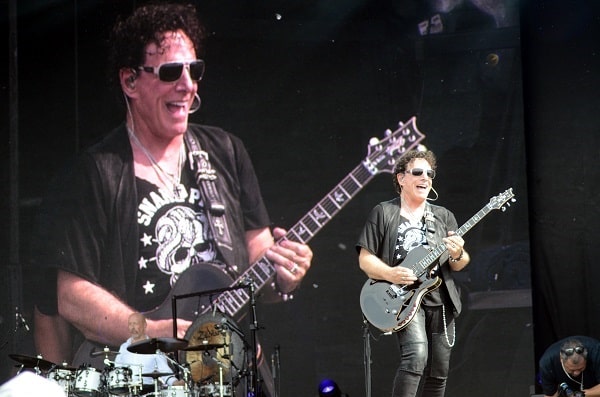 Journey's Neal Schon, as well as Jonathan Cain, have given their drummer Steven Smith and bassist Ross Valory the heave-ho. The musicians have instigated proceedings against the two ex-members.
The law firm representing Schon and Cain, Miller Barondess, LLC, filed a suit in California Superior Court on Tuesday, March 3rd.
Antimusic reports that the legal application accused "Smith and Valory of sowing discord among the band members by engaging in self-dealing and selfishly putting their interests ahead of the band's."
The two musicians are basically charged with attempting a "corporate coup d'etat" and the lawsuit argues that Smith and Volory tried to take control of the company, Nightmare Productions.  Such a move was understood to be an effort to assume control of the Journey name and Trademarkark in December of last year.
The lawsuit aasserts that "their campaign culminated on February 13, 2020, when Smith and Valory held improper shareholder and Board of Directors meetings of Nightmare Productions.
"During those meetings, the defendants and their allies voted to give Smith and Valory control of the Board, removing Cain as President and replacing him with Smith, and removing Schon as Secretary and replacing him with Valory." Schon and Cain's lawyer responded to the alleged claims saying,
"This is not an action that Neal and Jon wanted to bring against two men that they once considered their brothers, but the devious and truculent behavior of Steve and Ross left them reluctantly with no choice but to act decisively.
"Journey will continue on with great success by ridding the band of disruptive members and replacing them with top musicians; and most importantly, by keeping its essential members-Schon, Cain and Pineda-fully intact."