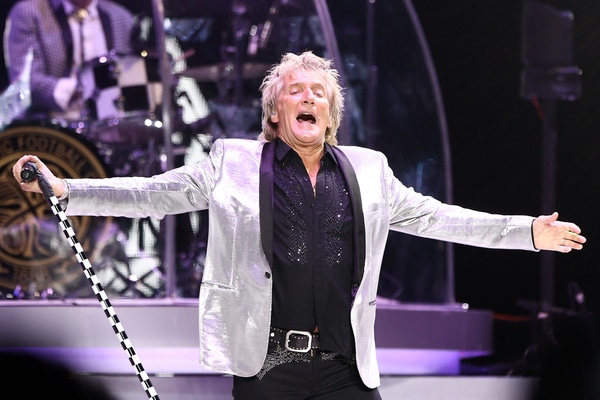 The trial of Rod Stewart and his son Sean Stewart has been cancelled by a Florida Judge.
The 76-year-old father and his 41-year-old son are alleged to have been involved in a physical altercation with a security guard at a Florida hotel on New Year's Eve, 2019. Both were hit with misdemeanor charges.
Judge August Bonavita has now scheduled a hearing for October 22nd to arrange a plea deal to resolve the charges without the Stewarts going to court.
Had the trail gone ahead and the Stewarts been found guilty, they could have been sentenced to either a year in jail or probation and a fine of $1,000.
On December 31st, 2019, Rod and Sean arrived at the Breakers Hotel in Palm Beach, where a New Year's Eve party was in full swing. The Stewarts attempted to enter their children to a children's area of the hotel but were refused entry by 33-year-old security guard Jessie Dixon.
According to a police report, Rod "began to get loud and cause a scene, and refused to follow [Dixon's] instructions to leave," while Sean got "about nose to nose" with Dixon.
Witnesses claim that Sean pushed Dixon and Rod punched the guard in the ribs. Rod is said to have mocked Dixon by making a Nazi salute gesture with one hand while making a Hitler mustache with his other.
Police said that a review of the hotel's security footage confirmed that the Stewarts were the "primary aggressors" of the incident.
Rod apologised for his behaviour but Dixon was adamant about pressing charges.
Sean said he became agitated "due to Dixon's interaction with him and his family."
"A resolution that's acceptable to all parties has been reached," the Stewarts' lawyer Guy Fronstin said. "It will result in no jail time for both my clients."
Palm Beach County State Attorney Dave Aronberg stated that the Stewarts' celebrity status would have had no bearing on the trial.
"Our mission is to uphold the law, regardless of socio-economic or celebrity status," he said. "My prosecutors based their decisions in this case, as all other cases, solely on the facts and the law."
Last month Rod Stewart revealed that he was inspired to record a cover of Tom Waits' Picture in a Frame by a two-week split from his wife Penny Lancaster.
"I asked her for a photo of herself in a frame so that I could see her when I went to bed and when I woke up," the singer said of his other half.