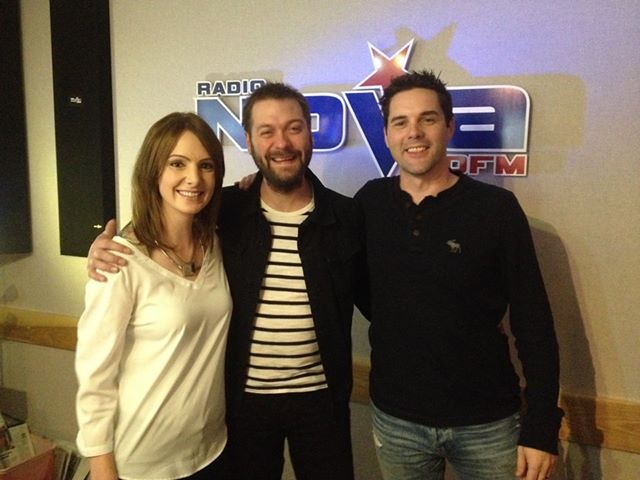 They're one of the biggest rock bands in the world, but Kasabian's lead singer says he doesn't know where the band will go next.
Tom Meighan dropped in to Radio Nova's Morning Glory to chat about everything from the mystery surrounding their new album's name, to balancing rock with raising a two-year-old and his happiness at Leicester's return to the Premier League!
Meighan told Marty Miller and Dee Woods his Irish connections (he has Donegal and Navan grandparents) means he loves bringing the band to play here. December 8th's gig at The O2 will make 2014 three years in a row for the band, who played the Forbidden Fruit festival last year and Marlay Park in 2012.
Kasabian's fifth album 48:13 went straight into the UK charts at no.1 – their fourth record to hit the top of the charts – but Tom says there's nothing cryptic about the title, it's simply the duration! He told the lads: "I wanted to call the record Volume V…and Serge [Pizzorno, the band's guitarist] said I've got an idea, the length of the record is 48:13! People read into it…[saying] Are you being arrogant? Are you being cryptic? Is it a f**k you type of thing? People really do read into it too much."
Check out the new video for 'Bumblebee' here:
Kasabian are living the dream having "given their lives to rock and roll" for the past fifteen years and after a streak of no.1 albums, headlining Glastonbury and enjoying a massive homecoming gig in front of tens of thousands of fans at Leicester earlier this year, where will they go from here? Tom admitted he really doesn't know, saying success has become something Kasabian is "prone to". "It's amazing to still be selling records in this day and age. And where do the Leicester lads go from here? "I don't know where we take it…we've done all right".That's putting it mildly!
Listen to Tom Meighan's full interview on Radio Nova's Morning Glory here…