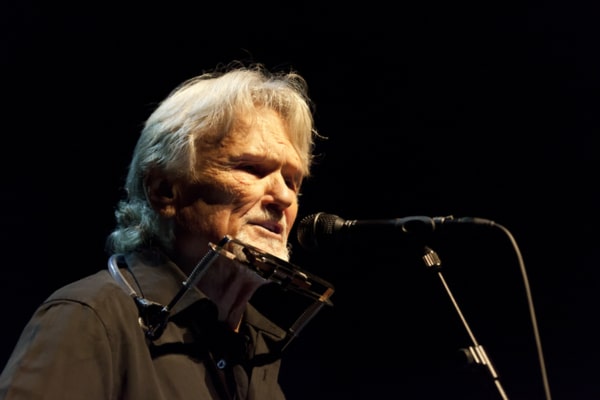 Kris Kristofferson is on his way to Ireland for six intimate gigs where one will see all profits go to ISPCC and Childline in an amazing gesture from the country music icon.
First up will see Kristofferson hit Castlebar on Sunday, June 24th with another two gigs the following nights in both Derry and Belfast.
With a break for one night only, the maestro will be back in The Olympia Theatre, Dublin for a string of shows from Thursday, June 28th to Saturday, June 30th.
All profits from his third and final night at the Olympia will go to the ISPCC and Childline which are no strangers to the singer who has had a life-long love of Ireland, previously donating €50,000 to the children's charity in 2016.
The sold-out gigs have been the source of much excitement for fans and if you were lucky enough to grab tickets – this is what you can expect from the main man when he lands in Ireland.
Shipwrecked in the Eighties
That's the Way Love Goes
Darby's Castle
Me and Bobby McGee
Here Comes That Rainbow Again
Best of All Possible Worlds
Help Me Make It Through The Night
Okie From Muskogee
Casey's Last Ride
Rocket To Stardom
Feeling Mortal
From Here To Forever
Daddy Frank (The Guitar Man)
Broken Freedom Song
Loving Her Was Easier (Than Anything I'll Ever Do Again)

Just The Other Side Of Nowhere

Duvalier's Dream
I'd Rather Be Sorry
Sing Me Back Home
Jody & The Kid
The Pilgrim, Chapter 33
Jesus Was A Capricorn

I Think I'll Just Stay Here & Drink

Sunday Mornin' Comin' Down
Ramblin' Fever
For The Good Times
A Moment of Forever
Why Me
Please Don't Tell Me How The Story Ends