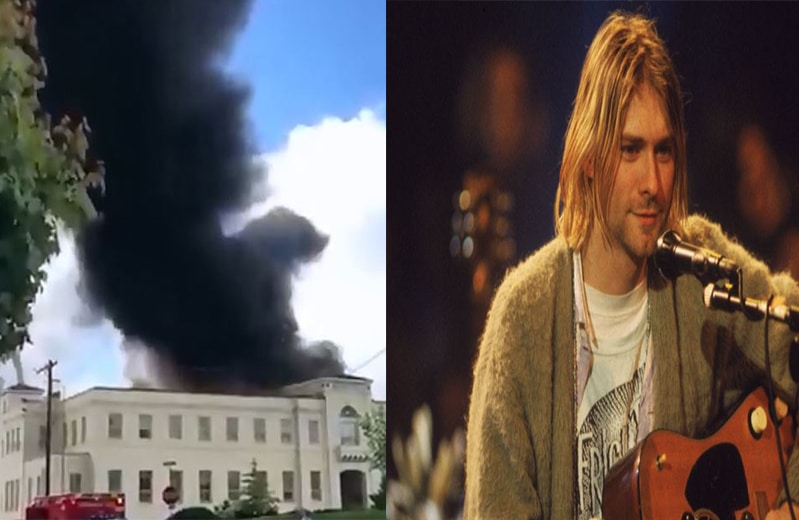 The town of Aberdeen, Wash. lost a treasured piece of their history over the weekend. That's as a fire destroyed the Aberdeen Museum of History. In the museum a whole section was dedicated to Aberdeen native Kurt Cobain and the legendary career of Nirvana, which has now been destroyed by the fire and smoke. The cause of the fire has not yet been determined.
Items from the Nirvana singers' personal collection, including original artwork, were on show at the Aberdeen Armory. The building in Cobain's hometown dates back to 1922 and also featured exhibitions on the city's history. The blaze broke out on Saturday June 9th. You can watch footage below.
#BREAKING Heather Luther sent us this video of fire at the Aberdeen Museum housed in the historic armory. Among the treasures inside is a Kurt Cobain exhibit. @SuzannePhan is heading there for #KOMONews pic.twitter.com/cbxvdxiIyA

— Keith Eldridge (@KeithKOMO4) June 9, 2018
Speaking to the press, Aberdeen Fire Chief Tom Hubbard said, 'This is a devastating loss for the city.' Concluding that there was 'massive destruction of a lot of historic items'. No one was also reported that no one was harmed in the blaze.
Writer Ryland Spencer shared some images from the Kurt Cobain exhibition., 'The Aberdeen Museum of History. Here are a couple pics of the Kurt Cobain Exhibit and one of the old Stewart Field (Aberdeen HS stadium) sign I took when I was down there last September. Horrible loss for the community.' pic.twitter.com/rsRliBPbmA
— Ryland Spencer™ (@RylandSpencer) June 11, 2018
Nirvana bassist Krist Novoselić shared the footage of the fire on Twitter, writing: 'This is terrible. Hope people are safe.'
This is terrible. Hope people are safe. https://t.co/ZWvwjr2Il2

— Krist Novoselić (@KristNovoselic) June 9, 2018