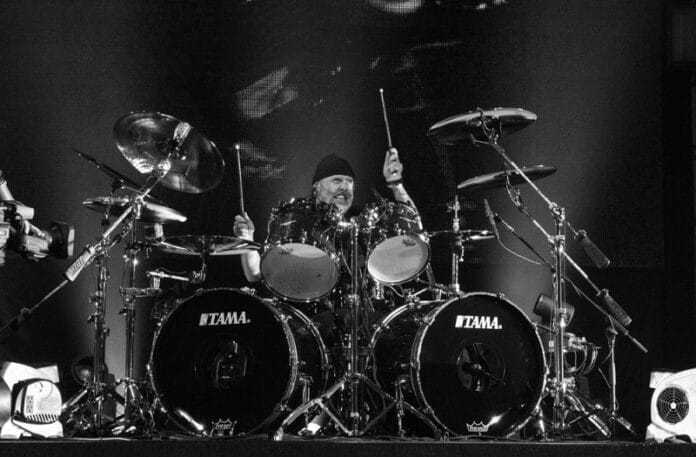 Metallica are already a month in to writing their next record according to drummer Lars Ulrich.
The Danish drummer was speaking to Phoebe Bridgers as part of Rolling Stone's musician on musician feature. The two discussed many topics including Metallica's battle with Napster, the beginnings of her career and how she fell in love with the band after hearing the song 'Fuel' on a PlayStation 2 game.
When talking about Metallica's next record, Ulrich said "We're three, four weeks into some pretty serious writing". "And of all the shit – pandemics, fires, politics, race problems, and just fucking looking at the state of the world – it's so easy just to so fall into a depressive state. But writing always makes me feel enthusiastic about what's next. It's like, Fuck, there's an opportunity here to still make the best record, to still make a difference. To still do something that not even turns other people on, but turns me on."
He went on to add "Being a rock'n'roll band and working virtually is not super-easy". "Time delays, all these things make it really hard. The main thing we miss is being able to hear each other. So if we're all four in a room together, we can connect with each other and we can hear each other. If I'm playing here in San Francisco, and Kirk (Hammett) and James (Hetfield), our two guitar players, are either in O'ahu or Colorado, there are significant time delays."
"It's very hard for us to play at the same time. If I'm doing what we call steering, which means that I'm playing a beat and they're playing to me, I can't hear what they're playing, and vice-versa. We can't all hear each other in a universal fashion. So there are some significant complications we have. Our recording team and our production team are speaking to software makers all over the world (about) how to crack the code on this. Nobody has quite figured it out yet".
In the feature Bridgers claims that 'St.Anger' was a "great record". The two also bonded over their love and appreciation for the late Motörhead frontman, Lemmy and Nine Inch Nails.
Metallica recently played their second concert in the pandemic. They played from their HQ in California. The first half of the set saw the band play acoustic. The second half of the show saw the band switch to electric guitars. The gig was a virtual one for their charity foundation, All Within My Hands. The concert can still be purchased from here. Metallica surprised fans by playing different versions of their own songs, a cover of 'The House of the Rising Sun' and a deep cut from the Load album.
You can watch a preview of the show below which includes an acoustic performance of 'Blackened' and a new version of their song 'Disposable Heroes'.