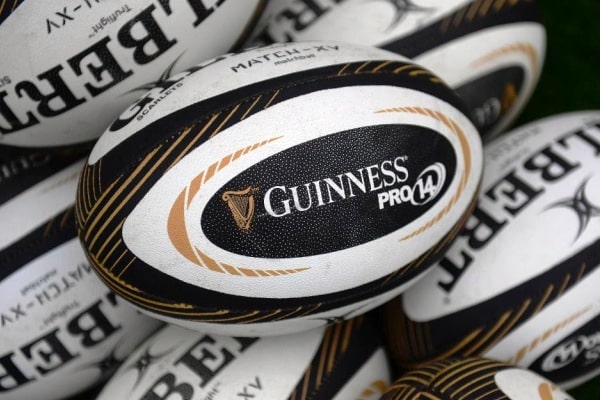 Wales will host the opening night of the new Guinness PRO14 season on August 31st when the first of 152 international club rugby games take place in Cardiff and Swansea.
Challenge Cup winners Cardiff Blues welcome defending Guinness PRO14 title holders and Champions Cup winners Leinster to Cardiff Arms Park.
The second game on Friday, August 31 will see Ospreys open the campaign with a visit of Richard Cockerill's Edinburgh, who reached the Guinness PRO14 Final Series for the very first time just two months ago.
Round One sees a full set of terrific match-ups with two clashes of former champions when Connacht Rugby host Glasgow Warriors while Scarlets, 2017 title winners and last season's beaten finalists, travel to Kingspan Stadium to face 2006 Celtic League winners, Ulster Rugby.
Munster Rugby will take on the Toyota Cheetahs while the Cheetahs' South African compatriots, the Southern Kings start their season in Parma, Italy when they tackle Zebre Rugby Club.
Finally, Dragons fans will have high hopes to see what the region can achieve in season two of Bernard Jackman's tenure as they face a challenging opener against Benetton Rugby who are aiming to build on last season's record number of wins to make a real push for the Guinness PRO14 Final Series.
For the first time ever the Championship has also been able to announce Kick-Off times and dates for the first 17 rounds of the Guinness PRO14 which is a big win for clubs and their supporters.
With 14 teams from five countries competing in the Guinness PRO14 across two hemispheres the process to formulate the fixture list comes with an extensive list of criteria to fulfill in terms of player welfare, respect to traditional match-days of various clubs and the needs of broadcasters.
Guinness PRO14 Fixtures for the 2018/19 Championship Season
(All fixtures are subject to change)
Fixtures:
ROUND 1
Friday, August 31 (all kick-off times are local)
19:35 Cardiff Blues v Leinster Rugby, Cardiff Arms Park
Live on Premier Sports & eir sport 1
19:35 Ospreys Rugby v Edinburgh Rugby, Liberty Stadium
Live on Premier Sports & eir sport 2
Saturday, September 1
15:00 Connacht Rugby v Glasgow Warriors, The Sportsground
Live on TG4, eir sport 1 & Premier Sports
17:15 Ulster Rugby v Scarlets, Kingspan Stadium
Live on Premier Sports, S4C & eir sport 2
17:15 Munster Rugby v Toyota Cheetahs (venue TBC)
Live on eir sport 2, Premier Sports & Super Sport
19:35 Dragons v Benetton Rugby, Rodney Parade
Live on Premier Sports & eir sport 2
20:35 Zebre Rugby Club v Southern Kings, Stadio Sergio Lanfranchi
Live on Premier Sports, Super Sport & eir sport 1
Broadcast channels from Round 2 will be confirmed in due course
ROUND 2
Friday, September 7 (all kick-off times are local)
19:35 Glasgow Warriors v Munster Rugby, Scotstoun Stadium
Live on Premier Sports & eir sport
19:35 Ulster Rugby v Edinburgh Rugby, Kingspan Stadium
Live on Premier Sports & eir sport
Saturday, September 8 (all kick-off times are local)
15:00 Dragons v Southern Kings, Rodney Parade
Live on Premier Sports, Super Sport & eir sport
17:15 Connacht Rugby v Zebre Rugby Club, The Sportsground
Live on TG4 & Premier Sports
17:30 Ospreys Rugby v Toyota Cheetahs, Liberty Stadium
Live on S4C, Premier Sports, Super Sport & eir sport
19:35 Scarlets v Leinster Rugby, Parc y Scarlets
Live on Premier Sports, eir sport & TG4
20:35 Benetton Rugby v Cardiff Blues, Stadio Monigo
Live on Free Sports
ROUND 3
Friday, September 14 (all kick-off times are local)
19:35 Edinburgh Rugby v Connacht Rugby, BT Murrayfield
Live on Premier Sports & eir sport
19:35 Munster Rugby v Ospreys Rugby, Irish Independent Park
Live on eir sport, Premier Sports & TG4
Saturday, September 15 (all kick-off times are local)
17:15 Scarlets v Benetton Rugby, Parc y Scarlets
Live on S4C, Premier Sports & eir sport
17:15 Leinster Rugby v Dragons, RDS Arena
Live on eir sport, Premier Sports & TG4
19:30 Toyota Cheetahs v Glasgow Warriors, Toyota Stadium
Live on Super Sport, Free Sports & eir sport
20:35 Zebre Rugby Club v Cardiff Blues, Stadio Sergio Lanfranchi
Live on Premier Sports & eir sport
Sunday, September 16 (all kick-off times are local)
14:15 Southern Kings v Ulster Rugby (Nelson Mandela Bay Stadium)
Live on Super Sport, Premier Sports & eir sport
ROUND 4
Friday, September 21 (all kick-off times are local)
19:15 Toyota Cheetahs v Ulster Rugby, Toyota Stadium
Live on Super Sport & Premier Sports
19:35 Cardiff Blues v Munster Rugby, Cardiff Arms Park
Live on Premier Sports, eir sport & TG4
Saturday, September 22 (all kick-off times are local)
15:00 Southern Kings v Glasgow Warriors, Nelson Mandela Bay Stadium
Live on Super Sport, Premier Sports, Free Sports & eir sport
17:15 Connacht Rugby v Scarlets, The Sportsground
Live on TG4 & Premier Sports
17:15 Dragons v Zebre Rugby Club, Rodney Parade
Live on S4C, Premier Sports & eir sport
19:35 Leinster Rugby v Edinburgh Rugby, RDS Arena
Live on eir sport & Premier Sports
19:35 Ospreys Rugby v Benetton Rugby, Liberty Stadium
Premier Sports & eir sport
ROUND 5
Friday, September 28 (all kick-off times are local)
19:35 Cardiff Blues v Toyota Cheetahs, Cardiff Arms Park
Live on Super Sport & Premier Sports & eir sport
19:35 Edinburgh Rugby v Benetton Rugby, BT Murrayfield
Live on Premier Sports & eir sport
Saturday, September 29 (all kick-off times are local)
16:00 Zebre Rugby Club v Ospreys Rugby, Stadio Sergio Lanfranchi
Live on Premier Sports & eir sport
17:15 Connacht Rugby v Leinster Rugby
Live TG4, eir sport & Premier Sports
18:30 Scarlets v Southern Kings
Live on S4C, Super Sport, Premier Sport and eir sport
19:35 Glasgow Warriors v Dragons
Live on Free Sports
19:35 Munster Rugby v Ulster Rugby
Live on eir sport and Premier Sports
ROUND 6
Friday, October 5 (all kick-off times are local)
19:35 Edinburgh Rugby v Toyota Cheetahs, BT Murrayfield
Live on Free Sports & Super Sport
19:35 Glasgow Warriors v Zebre Rugby, Scotstoun Stadium
Live on Premier Sports
19:35 Ulster Rugby v Connacht Rugby, Kingspan Stadium
Live on Premier Sports & eir sport
Saturday, October 6 (all kick-off times are local)
15:00 Scarlets v Ospreys Rugby, Parc y Scarlets
Live on Premier Sports & eir sport
17:15 Dragons v Cardiff Blues, Rodney Parade
Live on Premier Sports and eir sport
18:00 Leinster Rugby v Munster Rugby, Aviva Stadium
Live on eir sport and Premier Sports
20:00 Benetton Rugby v Southern Kings, Stadio Monigo
Live on Free Sports & Super Sport
ROUND 7
Friday, October 26 (all kick-off times are local)
19:00 Southern Kings v Scarlets, Nelson Mandela Bay Stadium
Live on Super Sport, Premier Sports & eir sport
19:55 Ulster Rugby v Dragons, Kingspan Stadium
Live on Premier Sports & eir sport
20:00 Zebre v Edinburgh Rugby, Stadio Sergio Lanfranchi
Live on Free Sports
Saturday, October 27 (all kick-off times are local)
16:00 Benetton Rugby v Leinster Rugby, Stadio Monigo
Live on eir sport & Premier Sports
17:15 Munster Rugby v Glasgow Warriors, Thomond Park
Live on eir sport & Premier Sports
19:15 Toyota Cheetahs v Cardiff Blues, Toyota Stadium
Live on Super Sport, S4C & Premier
October 26/27/28
TBC Ospreys v Connacht, Liberty Stadium
Live on Premier Sports & TG4
ROUND 8
Friday, November 2 (all kick-off times are local)
19:35 Edinburgh Rugby v Scarlets, BT Murrayfield
Live on Premier Sports & eir sport
19:35 Ospreys Rugby v Glasgow Warriors, Liberty Stadium
Live on Premier Sports & eir sport
Saturday, November 3 (all kick-off times are local)
16:00 Benetton Rugby v Ulster Rugby, Stadio Monigo
Live on Premier Sports
17:15 Connacht Rugby v Dragons, Sportsground
Live on TG4, S4C & Premier Sports
Sunday, November 4 (all kick-off times are local)
14:45 Cardiff Blues v Zebre, Cardiff Arms Park
Live on Free Sports, Premier Sports & eir sport
14:45 Southern Kings v Leinster Rugby, Nelson Mandela Bay Stadium
Live on Super Sport, Premier Sports & eir sport
16:45 Toyota Cheetahs v Munster Rugby, Toyota Stadium
Live on Super Sport, eir sport & Premier Sports
ROUND 9
Friday, November 23 (all kick-off times are local)
19:35 Glasgow Warriors v Cardiff Blues, Scotstoun
Live on Premier Sports & eir sport
19:35 Leinster Rugby v Ospreys Rugby, RDS Arena
Live on eir sport, Free Sports, TG4
19:35 Scarlets v Ulster Rugby, Parc y Scarlets
Live on Premier Sports & eir sport
Saturday, November 24 (all kick-off times are local)
14:30 Toyota Cheetahs v Benetton Rugby, Toyota Stadium
Live on Super Sport, Premier Sports & eir sport
Sunday, November 25 (all kick-off times are local)
15:00 Southern Kings v Connacht Rugby, Nelson Mandela Bay Stadium
Live on Super Sport, eir sport and Premier Sports
16:30 Zebre v Munster Rugby, Stadio Sergio Lanfranchi
Live on eir sport & Premier Sport
17:30 Dragons v Edinburgh Rugby, Rodney Parade
Live on S4C and Premier Sports
ROUND 10
Friday, November 30 (all kick-off times are local)
19:35 Ospreys Rugby v Zebre, Liberty Stadium
Live on Premier Sports and eir sport
19:35 Munster Rugby v Edinburgh Rugby, Irish Independent Park
Live on eir sport and Premier Sports
Saturday, December 1 (all kick-off times are local)
15:00 Ulster Rugby v Cardiff Blues, Kingspan Stadium
Live on Premier Sports & eir sport
17:00 Toyota Cheetahs v Connacht Rugby, Toyota Stadium
Live on Super Sport, Free Sports & eir sport
17:15 Glasgow Warriors v Scarlets, Scotstoun Stadium
Live on Premier Sports, S4C & eir sport
17:15 Dragons v Leinster Rugby, Rodney Parade
Live on Premier Sports, eir sport & TG4
19:15 Southern Kings v Benetton Rugby, Nelson Mandela Bay Stadium
Live on Super Sport & Free Sports
ROUND 11
Friday, December 21 (all kick-off times are local)
19:35 Ulster Rugby v Munster Rugby, Kingspan Stadium
Live on Premier Sports & eir sport
Saturday, December 22 (all kick-off times are local)
15:00 Ospreys Rugby v Scarlets, Liberty Stadium
Live on Premier Sports
17:15 Cardiff Blues v Dragons, Cardiff Arms Park
Live on S4C, Premier Sports & eir sport
17:15 Edinburgh Rugby v Glasgow Warriors, BT Murrayfield Stadium
Live on Premier Sports & eir sport
19:45 Leinster Rugby v Connacht Rugby, RDS Arena
Live on eir sport and Premier Sport
TBC Zebre v Benetton Rugby, Stadio Sergio Lanfranchi
Live on Free Sports
ROUND 12
Friday, December 28 (all kick-off times are local)
19:35 Connacht Rugby v Ulster Rugby, Sportsground
Live on TG4, eir sport & Premier Sports
Saturday, December 29 (all kick-off times are local)
TBC Benetton Rugby v Zebre, Stadio Monigo
Live Free Sports
15:00 Glasgow Warriors v Edinburgh Rugby, Scotstoun
Live Premier Sports & eir sport
17:15 Munster Rugby v Leinster Rugby, Thomond Park
Live on eir sport & Premier Sport
17:15 Scarlets v Cardiff Blues, Parc y Scarlets
Live on Premier Sports & eir sport
Sunday, December 30 (all kick-off times are local)
15:00 Dragons v Ospreys Rugby, Rodney Parade
Live on S4C, Premier Sports & eir sport
ROUND 13
Saturday, January 5 (all kick-off times are local)
15:00 Benetton Rugby v Glasgow Warriors, Stadio Monigo
Live on Premier Sports
17:15 Leinster Rugby v Ulster Rugby, RDS Arena
Live on eir sport & Premier Sport
17:15 Scarlets v Dragons, Parc y Scarlets
Live on Premier Sport & eir sports
19:35 Edinburgh Rugby v Southern Kings, BT Murrayfield
Live on Premier Sports & Super Sport
19:35 Connacht Rugby v Munster Rugby, Sportsground
Live on TG4, Premier Sports & eir sport
Sunday, January 6 (all kick-off times are local)
14:00 Zebre v Toyota Cheetahs, Stadio Sergio Lanfranchi
Live on Super Sport, Free Sports & Premier Sports
January 4/5/6
TBC Ospreys Rugby v Cardiff Blues
Live on Premier Sports & eir sport
ROUND 11
Saturday, January 19 (all kick-off times are local)
TBC Southern Kings v Toyota Cheetahs, Nelson Mandela Bay Stadium
Live on Super Sport, Premier Sport & eir sport
ROUND 14
Friday, January 25 (all kick-off times are local)
19:35 Glasgow Warriors v Ospreys Rugby, Scotstoun Stadium
Live on Premier Sport & eir sport
19:35 Leinster Rugby v Scarlets, RDS Arena
Live on eir sport, TG4 & Premier Sports
19:35 Ulster Rugby v Benetton Rugby, Kingspan Stadium
Saturday, January 26 (all kick-off times are local)
15:00 Dragons v Munster Rugby, Rodney Parade
Live on Premier Sports & eir sport
15:00 Toyota Cheetahs v Zebre, Toyota Stadium
Live on Super Sport & Premier Sport
17:15 Cardiff Blues v Connacht Rugby, Cardiff Arms Park
Live on S4C, TG4 and Premier Sports
17:15 Southern Kings v Edinburgh Rugby, Nelson Mandela Bay Stadium
Live Super Sport and Premier Sports
ROUND 12
Saturday, February 2 (all kick-off times are local)
16:00 Toyota Cheetahs v Southern Kings, Toyota Stadium
Live on Super Sport, Premier Sports and eir sport
ROUND 15
Friday, February 15 (all kick-off times are local)
19:35 Edinburgh Rugby v Dragons, BT Murrayfield
Live on Premier Sports
19:35 Munster Rugby v Southern Kings, Irish Independent Park
Live on eir sport, Premier Sports & Super Sport
Saturday, February 16 (all kick-off times are local)
16:00 Zebre v Leinster Rugby, Stadio Sergio Lanfranchi
Live on Free Sports and eir sport
17:30 Connacht Rugby v Toyota Cheetahs, Sportsground
Live on TG4, eir sport, Premier Sport & Super Sport
18:15 Benetton Rugby v Scarlets, Stadio Monigo
Live on S4C & Premier Sports
19:35 Cardiff Blues v Glasgow Warriors, Cardiff Arms Park
Live on Premier Sports
February 15/16/17
TBC Ospreys Rugby v Ulster Rugby, Liberty Stadium
Live on Premier Sports & eir sport
ROUND 16
Friday, February 22 (all kick-off times are local)
19:35 Glasgow Warriors v Connacht Rugby, Scotstoun Stadium
Live on Free Sports
19:35 Ospreys Rugby v Munster Rugby, Liberty Stadium
Live on Premier Sports, eir sport & TG4
19:55 Leinster Rugby v Southern Kings, RDS Arena
Live on eir sport, Super Sport & Premier Sports
Saturday, February 23 (all kick-off times are local)
14:00 Benetton Rugby v Dragons, Stadio Monigo
Live on S4C, Premier Sports & eir sport
19:35 Edinburgh Rugby v Cardiff Blues, BT Murrayfield
Live on Premier Sports
19:35 Ulster Rugby v Zebre, Kingspan Stadium
Live on Premier Sports
Sunday, February 24 (all kick-off times are local)
TBC Scarlets v Toyota Cheetahs, Parc y Scarlets
Live on Premier Sports, Super Sport & eir sport
ROUND 17
Friday, March 1 (all kick-off times are local)
19:35 Leinster Rugby v Toyota Cheetahs, RDS Arena
Live on eir sport, Super Sport & Premier Sports
Saturday, March 2 (all kick-off times are local)
14:45 Connacht Rugby v Ospreys Rugby, Sportsground
Live on TG4 & Premier Sports
16:00 Benetton Rugby v Edinburgh Rugby, Stadio Monigo
Live on Premier Sports & Free Sports
17:00 Scarlets v Munster Rugby, Parc y Scarlets
Live on S4C, eir sport 1 & Premier Sports
18:15 Zebre v Glasgow Warriors, Stadio Sergio Lanfranchi
Live on Premier Sports
19:35 Cardiff Blues v Southern Kings, Cardiff Arms Park
Live on Premier Sport & Super Sport
Sunday, March 3 (all kick-off times are local)
15:00 Dragons v Ulster Rugby, Rodney Parade
Live on Premier Sports & eir sport
ROUND 18
March 22/23/24
Cardiff Blues v Scarlets
Connacht Rugby v Benetton Rugby
Edinburgh Rugby v Leinster Rugby
Glasgow Warriors v Toyota Cheetahs
Munster Rugby v Zebre
Ospreys Rugby v Dragons
Ulster Rugby v Southern Kings
ROUND 19
April 5/6/7
Toyota Cheetahs v Ospreys Rugby
Glasgow Warriors v Ulster Rugby
Southern Kings v Dragons
Leinster Rugby v Benetton Rugby
Munster Rugby v Cardiff Blues
Scarlets v Edinburgh Rugby
Zebre v Connacht Rugby
ROUND 20
April 12/13/14
Toyota Cheetahs v Dragons
Connacht Rugby v Cardiff Blues
Edinburgh Rugby v Ulster Rugby
Southern Kings v Ospreys
Leinster Rugby v Glasgow Warriors
Scarlets v Zebre
Benetton Rugby v Munster Rugby
ROUND 21
April 26/27/28
Cardiff Blues v Ospreys Rugby
Toyota Cheetahs v Southern Kings
Dragons v Scarlets
Glasgow Warriors v Edinburgh Rugby
Munster Rugby v Connacht Rugby
Ulster Rugby v Leinster Rugby
Zebre v Benetton Rugby
Quarter-Final Stage
May 3/4/5
Semi-Finals
May 17/18/19
Guinness PRO14 Final
May 25