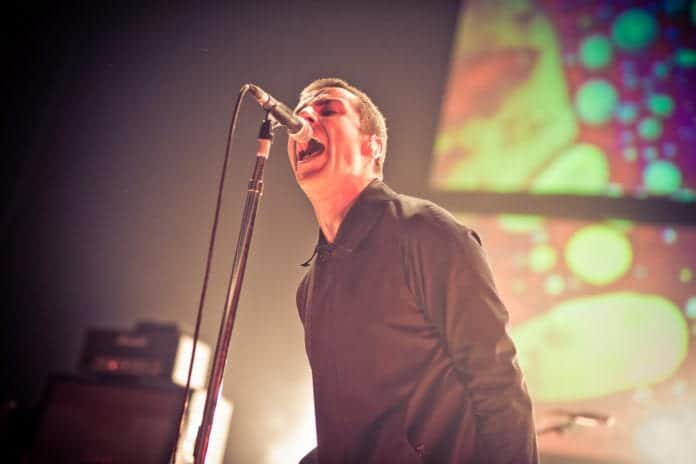 Former front-man of Oasis, Liam Gallagher, who is set to release his long awaited solo album 'As You Were' later this year made a surprise appearance in a Mckibbin's Irish pub in Montreal.
Not only did he show his face but he also picked up a guitar and joined in on the jamming session that was going on. What a Gent!
Gallagher wasn't worried about saving his voice while he was blasting out Oasis' classics, considering he was due to perform in the Osheaga festival the following day.
"He came, he sang, we drank, and just like that he was gone… awesome guy, surreal afternoon," said one person in attendance.
Gallagher is no stranger to surprising punters while enjoying a pint. In 2015, in a rural pub in Charlestown, Co Mayo, Gallagher played his new music to punters in the bar. Keep an eye out guys, you never know what pub he might pop up in next!
Gallagher also performed at 'Lollapalooza' music festival at the weekend, but he didn't have his usual pitch perfect performance at the Chicago festival. After performing just 4 songs, the singer apologised to his disappointed audience and walked off stage.
He opened with an Oasis classic, "Rock 'n' Roll Star', followed by 'Morning Glory'. He then ended his brief performance with his new solo tracks 'Wall of Glass' and 'Greedy Soul'.
Posting on Twitter almost immediately afterwards, he explained that he cut the hour long set short because his voice was "fucked".
"Sorry to the people who turned up for the gig in Chicago, 'Lollapalooza' – had a difficult gig last night which fucked my voice. I'm gutted LG", he wrote.
Hopefully Gallagher will be back to himself in no time.
Photo Credit: Kmeron
*Written By Hannah Murphy