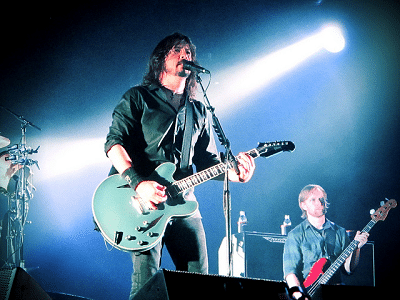 The wait is finally over, Foo Fighters have premiered their brand new single 'Something From Nothing', taken from their upcoming album Sonic Highways.
It has been over two years since the last song 'Bridge Burning' was released by the band.
The world premiere of 'Something from Nothing' occurred on Zane Lowe's BBC Radio 1 show and the new track doesn't disappoint.
Sonic Highways will be released on November 7th and will be the eighth studio LP from the lads . The new record clocks in at 44 minutes and features eight new tracks.
The album features a number of guest features, including Cheap Trick's Rick Nielson, Death Cab For Cutie's Ben Gibbard and The Eagles' Joe Walsh.
The record was produced by Butch Vig, member of the Wisconsin rock band Garbage. He previously worked with Foo Fighters on their last record Wasting Light in 2011, as well as working with Dave Grohl in 1991 on Nirvana's break-through LP Nevermind.
Back in July, Vig tweeted that the mixing for album had been completed and that the LP was "Epic".
The album's release will coincide with a new HBO tv series featuring Foo Fighters. The eight part series follows the group as they travel across America recording the Sonic Highways LP. The first episode of the series will air on BBC Four on Sunday October 26th.
The American rockers have also taken over this week's 'Late Show With David Letterman.' They kicked off their week-long residency with a storming rendition of Black Sabbath's 'War Pigs'.
Listen to the brand new Foo Fighters song 'Something From Nothing' below.
Sonic Highways track list:
1. Something From Nothing
2. The Feast and The Famine
3. Congregation
4. What Did I Do?/God As My Witness
5. Outside
6. In The Clear
7. Subterranean
8. I Am A River