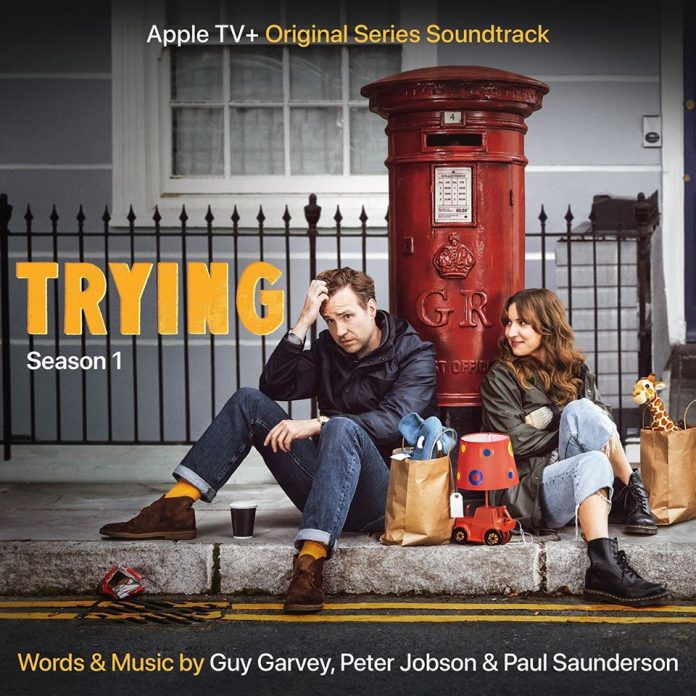 Released on May 1st, the soundtrack for the new Apple Original comedy series, 'Trying',  features nine brand new songs written especially for the series by elbow lead singer Guy Garvey, I Am Kloot bassist Peter Jobson and established composer Paul Saunderson, who previously have worked together on the hit ITV drama 'Cleaning Up' and 'The More You Ignore Me', the UK film based on Jo Brand's novel.
The complete first season of 'Trying' debuted globally May 1st, exclusively on Apple TV+. Starring Rafe Spall, Esther Smith and BAFTA Award-winner Imelda Staunton, 'Trying' is a heartfelt, new comedy series that follows Jason and Nikki, a couple that wants a baby, but it's the one thing they just can't have. 'Trying' is written by Andy Walton and directed by Jim O'Hanlon ('Catastrophe'). The series is produced by BBC Studios for Apple TV+.
Garvey, Jobson and Saunderson were tasked with writing a bespoke song for each episode of 'Trying' tied to the narrative alongside the incidental music which they also wrote.
To fully realise their vision, they brought in a variety of vocal talent that includes Stereophonics' Kelly Jones, 2018 Olivier Award winner Sheila Atim, 2019 Glastonbury Emerging Talent winner Marie White, and Hattie Whitehead, alongside Isaac Gracie and Chilli Chilton, whose duet 'Don't Look Down' features in episode one. Guy Garvey appears on three of the new songs whilst the soundtrack also features Maisie Peters song 'Favourite Ex', which features prominently in the show.
The trio said of the soundtrack:
'It was a really enjoyable project. We were given a broad canvas to work with and allowed to follow out instincts. The only remit was that each song had to relate to its episode which worked to focus our minds really well. The singers we brought in turned in exceptional performances and we're so proud of the recordings.'