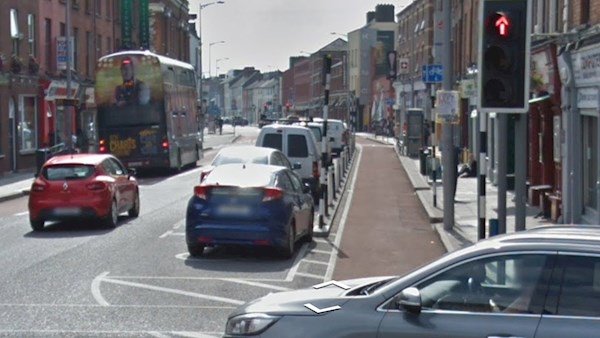 A man has been arrested after a seven-hour standoff that took place on scaffolding on one of Cork's main streets.
Slates were hurled from the top of the scaffolding and a number of cars were damaged during the incident. The standoff began on the city's Washington St on Friday night and ended in the early hours of Saturday morning.
There are many pubs and nightclubs in the area and it was busy with people when the incident kicked off.
Two cars, as well as a garda vehicle, were damaged during the course of the standoff over the next several hours but there were no reports of any injuries.
The man in his 30's is from the north side of the city and is known to gardai. He was detained under the provisions of the mental health act. According to reports the man was assessed and is receiving the appropriate medical attention.
The alarm was sounded around 10.30pm last night when a man, described by witnesses as "disturbed and agitated", climbed scaffolding which has been built around a three-storey building on the corner of Courthouse St and Washington St.
He began shouting abuse at passers-by on the street below before he began throwing slates and roof tiles from the top of the scaffolding. Gardai were called and they sealed off the area to pedestrians and traffic in the interests of public safety.
Two units of Cork City Fire Brigade and an ambulance were tasked to the incident. Several specialist garda units were put on standby and a trained garda negotiator who was brought to the scene began engaging with the man.
But he refused to come off the scaffolding and continued firing slates onto the road. The negotiator spent several hours trying talk the man down. But it was 5.30am before the man came down of his own accord and the various emergency services were stood down and the area was reopened to the public. The man was arrested at the scene and garda investigating are ongoing.
Source: Eoin English