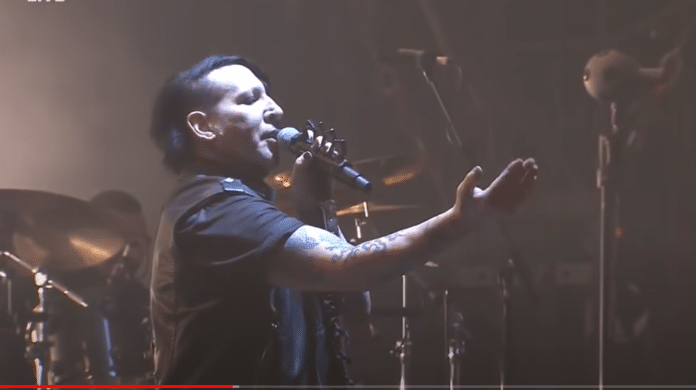 Rock Star, Marilyn Manson has been dropped from his record label Loma Vista Recordings, after actress Evan Rachel Wood accused him of being abusive during their relationship. They were briefly engaged in 2010.
Manson found fame in the 1990s for his distinctive appearance. His last album, released in 2020 with Loma Vista reached number 7 in the UK Charts. He celebrated his 50th birthday two years ago.
Wood who starred in the Sci-Fi film, "Westworld", posted her allegations of abuse against Manson on Instagram yesterday. She wrote that Manson had had been "grooming" her since she was a teenager. She also added that he had "horrifically abused me for years".
Wood was one of five women who had made allegations of abuse against Marilyn Manson.
One of these women described how she was "locked in rooms" when she was "bad" and how she was occasionally forced to listen to him "entertaining other women". She also said that she was told by other women who stood up to him, that their pets "ended up dead". 
Another woman claimed that her relationship with Manson "turned dark very quickly". She also said she "was given rules and got into "trouble" for behaviour he didn't approve of".
While another even alleged that Manson "cut both our hands with a broken glass" as a "blood pact".
"In light of these disturbing allegations"
Due to these "disturbing allegations" Manson's record label, Loma Vista Recordings ended their association with the musician. 
The label released a statement, "In light of today's disturbing allegations by Evan Rachel Wood and other women naming Marilyn Manson as their abuser, Loma Vista will cease to further promote his current album, effective immediately.
"Due to these concerning developments, we have also decided not to work with Marilyn Manson on any future projects". 
As well as this, US TV network, Starz have dropped Manson's appearance in the fantasy drama "American Gods".
They also said, "Due to the allegations made against Marilyn Manson, we have decided to remove his performance from the remaining episode he is in, scheduled to air later this season. Starz stands unequivocally with all victims and survivors of abuse".
On top of this, AMC have also pulled an episode from the horror anthology series Creepshow which was set to feature Manson.
Manson: "Horrible distortions of reality"
Marilyn Manson has since denied these allegations. He labelled them "horrible distortions of reality".
Since Even Rachel Wood and other women made these allegations, Manson has taken to Instagram himself.
He eschewed these allegations, claiming that all of his relationships with women "have always been entirely consensual".
Manson wrote, "Obviously, my art and my life have long been magnets for controversy, but these recent claims about me are horrible distortions of reality," he wrote.
"My intimate relationships have always been entirely consensual with like-minded partners. Regardless of how and why others are now choosing to misrepresent the past, that is the truth".