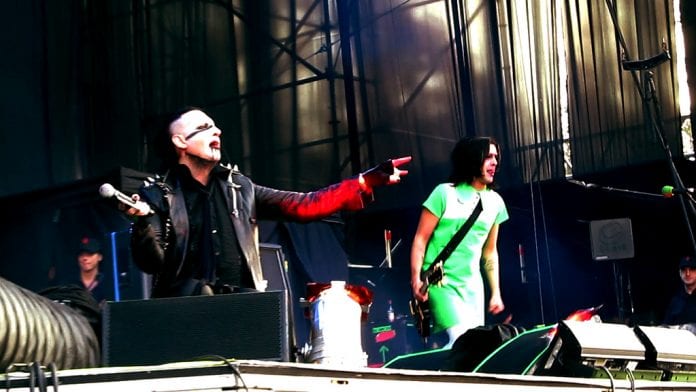 Marilyn Manson has parted ways with 'Twiggy Ramirez' who's real name is Jeordie White. The long-time bassist for Marilyn Manson has been accused of rape and abuse and as a result, has been dropped from Manson's band.
The allegations come from Jack Off Jill singer Jessica Addams, who accused the bassist of abuse and rape in a Facebook post published on October 20th. Manson announced his split with White on his Twitter page:
I have decided to part ways with Jeordie White as a member of Marilyn Manson. He will be replaced for the upcoming tour. I wish him well.

— Marilyn Manson (@marilynmanson) October 25, 2017
Manson added on Instagram, "This is a sad day."
In Addams' Facebook post, she detailed the 'tumultuous' relationship she had with White – which began when she was 18 in the early 90's. She has said that White's temper grew over time and his violence towards her went from fat-shaming and emotional abuse to physical attacks.
She also said that she was raped by White when he came home from touring with Manson when he was opening for Nine Inch Nails. "I knew at that point that Jeordie had not been faithful on tour, including being with women whom I to this day respect and considered my musical contemporaries. All this led to an argument I never saw coming. He forced me on to the floor with his hand around my neck. I said NO. I said NO. I said it so loud enough, that [Addams' roommate] Pete came rushing in from the other room to get him off of me. But I had been raped. I had been raped by somebody I thought I loved."
She spoke about the "guilt and shame" that she felt following the alleged attack. Particularly as she was forced to be in the same social circles as White when Jack Off Jill toured with Manson in 1999. Addams added that her feelings were made worse when she told her record label – to then be told not to go public with it, in fear of her band being "blackballed by concert promoters, radio programmers, and other bands and their managers… The label blatantly feared the big machine behind Marilyn Manson would use their power to destroy not only Jack Off Jill, but my name, Jessicka, as well. The pressure and guilt of the inevitable repercussions of my rape story affecting my band's livelihood, happiness and success kept me silent for years."
Addams closed the post with a message of empowerment to her fans, writing that women "must stand up for each other. It's the only way we can confront and combat men who think they hold power over us. I am thankful to know that there are men out there who do not share this gross ideology and stand with us. This is an intersectional uphill battle for women and the men who are scared for their reputation with other men to defend us."
White left Marilyn Manson for the first time in 2003, but then rejoined in 2008 to record the seventh album The High End of Low. Manson has a gig scheduled for the 5th of November in Devore, California at Ozzfest Meets Knotfest.
There is then a North American tour planned, with a European tour following – in support of Manson's new album Heaven Upside Down. Manson has yet to reveal who will replace White.
Photo Credit: chikodelportiko