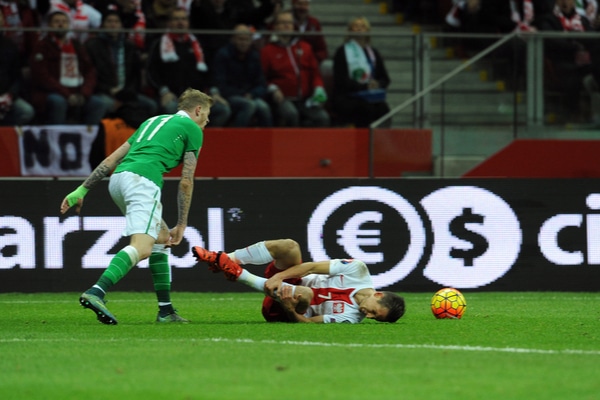 Republic of Ireland footballer, James McClean has spoken out on the years of racist abuse he has suffered throughout his career. McClean has received abuse at matches and most noticeably, online, for his Nationality.
The Stoke City midfielder has recently been more vocal about the abuse he receives online and from the stands. In a time when football organisations are trying to stomp out racial abuse towards players of colour, McClean calls out the double standards with which racial abuse against him is treated.
McClean recently disclosed a number of abusive messages that had been sent to him and his family by online trolls. The player has been receiving such abuse throughout his career, but one where someone threatened to burn his house down was seen as the last straw. Erin released a statement saying that abuse has been "part of their daily lives for the last nine years" and that threats to the couple's children finally prompted them to go public.
"I've had a lot of messages recently from ex-players, players still playing and the general public, saying they've been subjected to Irish abuse in the UK on a daily basis and don't speak up," McClean said. "This is not just about me, it's about them. We should be proud to be Irish and not be abused for it – things like being called a Paddy, a Fenian, a leprechaun, a pikey.
"It's not acceptable, and we're not going to accept it anymore," declared McClean. "I want those people to challenge that. We are not inferior and shouldn't be treated like we're inferior. It's time to stand up and be proud of who you are and no accept being seen as second class.
"I think we as Irish people, we've been guilty because we've allowed it to happen. We're not going to accept it no more. I couldn't be more proud of being Irish and I take that everywhere with me," declared McClean.
Earlier this week, Celtic boss Neil Lennon said the abuse levelled at McClean was "absolutely scandalous" while, DUP MP Gregory Campbell demanded an end to threats and sectarian insults. Taoiseach Micheál Martin also publicly backed McClean and said social media can be "at its worst, toxic and cruel".  Niall Quinn and Brian Kerr had their say on last night's panel. The FAI have also publicly stated its support for McClean and says they have reached out to him personally. 
"The FAI remains committed to safeguarding all of our players against any form of abuse on any social media platform," said CEO Jonathan Hill. "To abuse or threaten James or any player because of his nationality should not be tolerated by society. Unfortunately, such behaviour is all too common now on social media".
Well done to the family of #JamesMcClean for speaking out about years of horrific abuse they've suffered online.
Social media at its best gives a voice to everyone – at its worst it is toxic and cruel. https://t.co/XGXWXZBm3r

— Micheál Martin (@MichealMartinTD) February 17, 2021