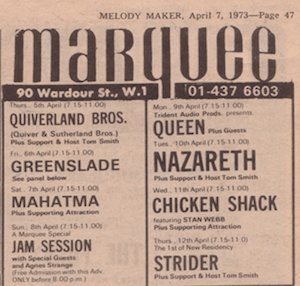 Every day on Radio Nova, just before 11am, we play a couple of songs key to "today in music history" Have a listen! But for now – here's some light reading and watching. April 9th in Music History looks like this.
1967, The Doors and The Jefferson Airplane appeared at Cheetah, Santa Monica Pier, Venice, California. This was the largest show The Doors had played to date with a crowd of over 3,000
1973, Newly signed to EMI Records, Queen played a showcase gig for their new record label.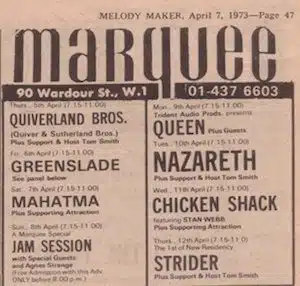 1974, Terry Jacks was at No.1 on the UK singles chart with 'Seasons In The Sun. Who bought this?? Awful!
1983, David Bowie was at No.1 on the UK singles chart with the title track from his latest album 'Let's Dance', his fourth UK No.1 and featuring blues guitarist Stevie Ray Vaughan.
1989, Rolling Stone Bill Wyman announced his forthcoming marriage to 19-year old Mandy Smith. He revealed the couple had been dating for six years – Which of course would have put her at 13!
2016, Fleetwood Mac announced that Lindsey Buckingham had been fired from the band and would be replaced by Crowded House's Neil Finn and Mike Campbell, former lead guitarist of Tom Petty & The Heartbreakers.
April 9th birthdays include Albert Hammond Jr, guitarist from American rock band The Strokes who had the 2001 UK No.14 single 'Last Nite' and the 2001 UK No.2 album Is This It.
Dublin Born Mark Kelly of Marillion
1926, Playboy founder Hugh Hefner is born today. He dies on September 27, 2017.
1932, Carl Perkins is born.
Don't forget you can now get This Week in Music History every Friday from Nova.ie and Radio Nova.
To subscribe to the podcast, just click here