Met Eireann weather chiefs have revealed that they will not rule out a status red warning as Storm Lorenzo hits Irish shores today. Status Red is the highest alert available in Ireland.
The storm's strong gales will see widespread disruption all across the country with severe flooding and fallen trees expected.
The storm will span a 60-mile wide corridor when its strength is fully felt on Thursday night.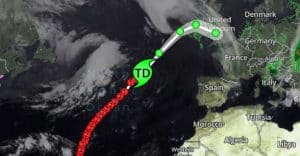 Evelyn Cusack, Head of Forecasting at Met Eireann's said on Wednesday: "It's not widespread 'Red' across the counties but we will have violent storm-force winds and there will be level red impacts in some coastal areas…
"There will be some inundations [of sea water] due to this unusual coincidence of extremely low pressure, high tides, onshore storm force winds and heavy rain."
The torrential rain of up to two inches in parts will bring floods and the threat of overflowing rivers.
Massive ocean swells gaining power in the Atlantic will combine with Storm Force 11 gales and high tides, that could potentially wreak havoc on coastal defences.