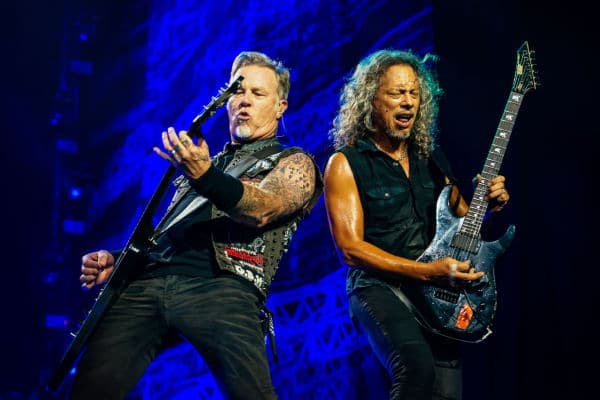 Metallica have confirmed that their 12th studio album '72 Seasons' will be played for cinema goers at a Global Premiere for one night only.
Taking place on April 13, the album will be played, with each track featuring its own music video, along with exclusive commentary from the band.
The film also sees Metallica collaborate with Trafalgar Releasing once again, having collaborated on the cinematic release of 'S&M²' in 2019.
This release saw the band reuniting with San Francisco Symphony, to celebrate the 20th anniversary of original 'S&M²' concerts and releases.
The album itself arrives the following day (April 14). Tickets for this premiere go on sale from March 2 via Metallica.film.
"a monumental opportunity"
Arriving in April, '72 Seasons' is an album that was produced by Metallica's James Hetfield, and Lars Ulrich, alongside Greg Fidelman.
Arriving in all formats, the release also includes 2LP 140g black vinyl and limited edition variants, CD and digital.
The track 'Lux Æterna' is also included in this album. Check it out here.
Speaking of the premiere, SVP prgramming and content acquisitions for Trafalgar Releasling, Kymberli Frueh claimed that this is a perfect opportunity for fans of the band to check this album out.
"This is a monumental opportunity for METALLICA fans to be the first to hear the new album. We are thrilled to be a part of this historical global moment — connecting METALLICA with their fans once again", he said.
Elsewhere, Metallica frontman James Hetfield recently urged fans against interacting with online imposters pretending to be him on social media.
"There are people online that have assumed my identity, spreading misinformation, and have caused damage to other people. There are imposters and predators out there", he warned.
He also added, "This is out of my control, but it is in your control who you choose to connect with. Please be careful on socials and vet people before getting in contact with them".