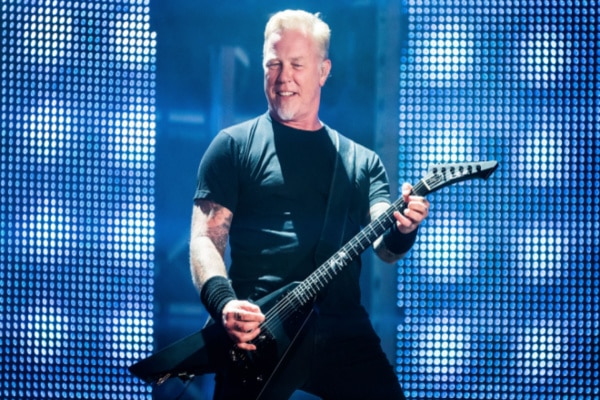 James Hetfield has filed for divorce after more than 20 years of marriage, according to reports.
The Metallica lead singer and wife Francesca tied the knot in 1997, having met five years earlier. The couple went on to have three children, Cali, Marcella and Castor, aged 20, 18 and 16 respectively.
Sources close to the couple have claimed that James Hefield filed for divorce from his wife earlier this year, in their home state of California.
"feeling a bit insecure"
In the past, James Hetfield has been quite open about the fact that he has suffered from anxiety, addiction and low self esteem. He has also previously credited Francesca with his sobriety.
Back in May, the Metallica frontman even addmitted to and audience that he was "feeling a bit insecure" just moments before their gig in Brazil.
Hetfield has also candidly spoken about the transformation that he also had to undergo to successfully front Metallica during their tour for their 1991 self titled debut album.
The album also stands as one of the best selling of all time.
"There was such an expectation already on myself to not let the team down and be the best as possible", Hetfield said last October. "But then you add 60,000 people out there… You need to be what they need you to be, 'cause this is what you've evolved to be". 
"And it is a little bit of Oz," referencing the classic 1900 children's book "The Wizard Of Oz" by L. Frank Baum which was then adapted into the two-time Oscar-winning film in 1939. "Like, the man behind the curtain, pay no attention, but this guy behind the curtain is just dying and struggling and freaking out and not knowing who he is". 
"unravelling is a great word" – Hetfield
James Hetfield spoke further about personal insecurities in the same interview.
"The word 'unraveling' is a great word, like unlearning, unlearning all of what happened before. That was a part of me, for sure, but it dominated all of me. And the parts that weren't happy about me — there's a huge codependence and insecurity, a lot of that — that… Gosh, I can't… I'm no good without these guys", Hetfield continued.
"Who am I? Off tour, it's, like, 'Who am I?' Like any first responder or football player or even a soldier, you take your uniform off and you're a civilian again. [And you start asking yourself] 'Who am I? I don't know who I am.' There was a lot of fear in that". 
Speaking of that Brazilian gig, an attendee who gave birth at the show also paid tribute to Hetfield with a very special middle name. More on this here.