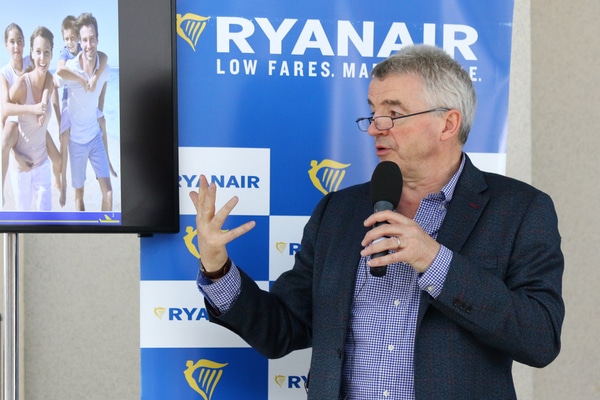 Ryanair Group CEO Michael O'Leary sees a "very strong recovery" for the airline.
Speaking to Reuters in a new interview, O'Leary said that Ryanair has already increased its passenger target for the autumn, following signs of a "very strong recovery" in European short haul flights.
O'Leary also said that Ryanair is expected to fly 10.5 million per month in September, October and November. It had been intially forecasted in July that 10 million passengers would fly for each of this months.
Back in March, Michael O'Leary had said the restrictions on holidays to Spain, Greece and Portugal would be dropped by the Summer. More on that here.
Ryanair "set fair for a very strong recovery" 
"As long as there are no adverse Covid developments, things are set fair for a very strong recovery", O'Leary said.
He also added that Ryanair is on target to exceed its 10.5 million target in August.
But all indicators show that Ryanair will still fly with 15-20% empty seats on planes this winter, compared to 7-8% pre Covid.
O'Leary said, "Through the winter, pricing will continue to build, but it will still be below (pre) Covid". 
"We don't expect pricing to go back to pre-Covid levels until the summer of 2022", he insisted.
"Very keen"
Michael O'Leary also revealed at this press briefing that Ryanair is "very keen" to make a significant order for Boeing's 737 MAX aircraft.
But he added that no agreement has been made with talks ongoing.
O'Leary said, "We're certainly very keen to place a MAX 10 order but only when the timing and the pricing is right".
Adding, "Boeing needs an order".
Ryanair have also said that they are interested in ordering the 230 seat MAX-10 for delivery once the current order is completed in 2025.
The airline is already the largest European customer for 737 MAX. They have made 210 orders for the 197-seat MAX 8-200 model.