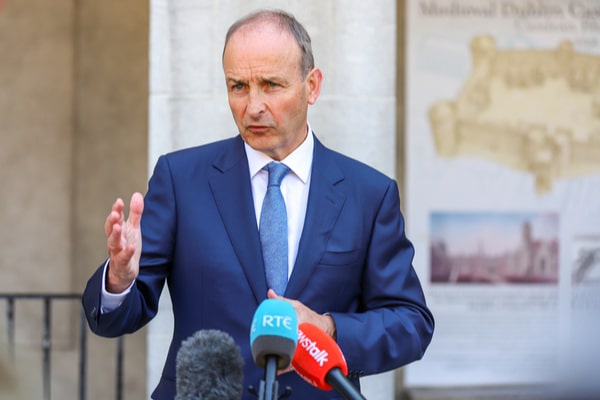 Taoiseach Micheál Martin has called today a "significant milestone" as thousands of office workers return to their workplace for the first time since March 2020, as Covid restrictions continue to ease.
Up to 100 people will also be able to attend art classes, pilates studios, indoor dance classes as well as fitness classes and indoor sports, providing they are immune.
Those of a mixed immunity status will be required to stay in pods of six people for classes.
All restrictions on outdoor group activities will also be removed.
"significant milestone"
The Taoiseach also called today an "important day for the economy". 
"Today marks another significant, and welcome, milestone for Ireland as we continue to emerge from the Covid-19 pandemic", Mr Martin said this morning.
He continued, "It is an important day for businesses welcoming staff back to the workplace, and for indoor sports, arts, and cultural classes".
Micheál Martin also praised the hard work and sacrifice that the Irish people have shown over the course of this pandemic.
He also praised the "exceptional progress of a national vaccination programme". Adding "that has fully vaccinated over 90 per cent of the adult population".
"I know how challenging the necessary public health restrictions have been for young and old. They have had much of their working, artistic, cultural and sporting lives on hold for so long".
Martin also added that further restrictions will be eased if this progress continues. But he insisted that we "cannot let our guard". 
"We all have a part to play in protecting our hospitals and most vulnerable", he said.
The Government will announce plans for marking the "sacrifice and efforts" of frontline workers "in the coming weeks".
Martin confirmed that people who "lost their lives in this terrible and unprecedented pandemic", will also be marked.
Welcome back to everyone returning to the workplace, and to all the arts, sports and cultural activities re-opening today.

Another important milestone as we emerge from the pandemic – one made possible by the efforts of the Irish people and our successful vaccine rollout.

— Micheál Martin (@MichealMartinTD) September 20, 2021
Restrictions on clubs to life
This news comes after it was announced that nightlubs are to reopen with pilot events this month.
One such event will take place in Dublin's Button Factory on September 30.
Minister Catherine Martin even said that clubs and pubs could stay open as late as 6am under new government proposals.
"Why not? I think that opportunity should be there", the minister said.
"It's breathing life and new opportunities for this sector", she said.  "It can be done in a safe way and I think that option definitely should be there". 
More on that here.